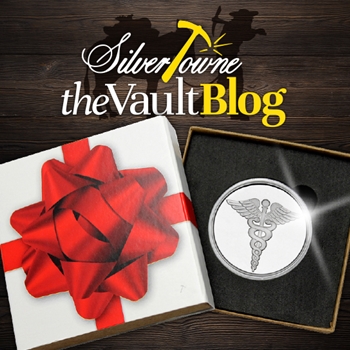 To start the year off, we wanted to once again make it apparent who we owe all of our debts of gratitude to these last 10 extremely long months. Nurses, doctors, emergency workers, medical staff, and all frontline care workers who have worked themselves into the ground for this country and its people. If you know someone out there who fits that description, we hope you have made your thanks very clear. If you want to take it a step further with a unique gift, we have just the thing for you this January. Now available for the Silver of the Month is the Medical Medallion. Keep reading if you are not sure what the Silver of the Month features.
Do you like free shipping? Of course, you do. Do you like the opportunity to get silver without having to buy more than what you want? Who doesn't? Welcome to our unofficial official silver of the month club where you do not have to sign up or enter any more information than necessary. All you have to do as a loyal SilverTowne customer is scroll to the bottom right of the homepage to figure out what piece of silver is featured each month and boom, you are in!
Custom minted at our very own SilverTowne Mint in Winchester, Indiana, the obverse of this .999 fine silver medallion features the caduceus, a traditional symbol of Hermes that features two snakes winding around a winged staff atop a mirrorlike background. The symbol is often seen in the United States and represents medicine as popularized by the United States Army Medical Corps. The symbol was seen on Army medical officers' uniforms in the early 1900s. The reverse features our standard non-dated back with the weight (ONE TROY OUNCE) and purity (.999 FINE SILVER) designation displayed around the area left blank for optional engraving.
Your .999 fine silver round will come protected in a plastic capsule to ensure its safety during the shipping process. It will then fit snugly inside of a premium dark grey foam insert that fits directly into our in-house designed SilverTowne gift box with natural kraft paper made from recycled materials within the United States. Complete this gift by choosing one of many outer box sleeves designed to save you time and money. The sleeves come with customizable blank areas on the back for your To/From message. No gift wrapping is needed! There are a number of options to choose from upon checkout in addition to other packaging options.