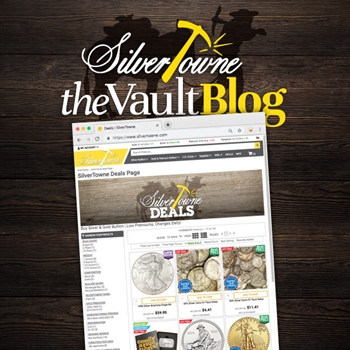 As a consumer society, we often are looking for a deal. Full price, what's that?
Every retailer has a sale or deals going on at any given time and that includes us. We have even gone as far as having a special page on our website that features these deals. Is this the first you have heard of it? Well, let us give you the low down by answering some of the questions that may occur when inquiring about these deals.
Where can I find it on your website?
It is quite easy for anyone to find. On our homepage, there are tabs labeled "Silver Bullion", "Gold & Platinum Bullion", "U.S. Coins", and so on. Second to last in the row is a specific tab labeled "DEALS". Click that tab and you have arrived at your destination.
When do special offers and deals occur
At any given time, we have a special offer going on at our website and primarily on our "DEALS" page. There are also expiration dates on specific options like any proper sale and products change all the time. Checking back in often is best when taking full advantage of everything we have to offer.
What kinds of items are featured?
From 90% silver United States coinage to secondary market gold and silver bullion, we have a number of different options depending on what we acquire. You will also find our featured Silver of the Month bullion piece as well as new releases. Certified options may also be found.
What exactly makes the items a "deal"?
There a number of ways in which the items we put in this category are considered to be a deal. 90% silver coins can be sold at melt value in addition to secondary market gold and silver coins and bullion being sold at lower premiums. You may even snag a special upgrade on an item. In addition to those things, some of the items featured may ship for free or have a special low mintage at a great price. Once again, all of these factors are dependent upon ever-changing products.
How to become more aware of these deals?
Every Tuesday and Thursday there are emails that feature current weekly deals at lower premiums. Signing up for e-newsletters is a sure fire way of keeping up-to-date with everything offered.
Product Availability Will Vary at Any Given Time