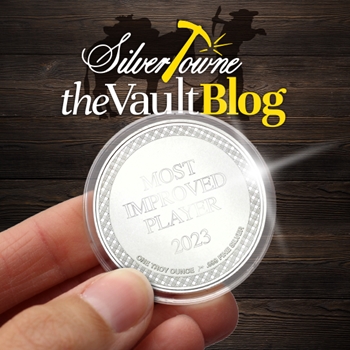 School is back in session for a lot of kids and young adults, and more than likely those who participate in sports have already been practicing and playing games/matches for nearly a month or so in preparation for the Fall season. It takes an enormous amount of dedication as an athlete to not only focus on their sport, but to do well in school simultaneously. Kudos to all those who tackle (pun intended) that challenge head on!
As a parent, a coach, a grandparent, sibling, aunt, uncle, teacher, etc., what better way to honor their hard work with not only the gift that keeps on giving, but one that is personalized for a more memorable experience?!?! Silver bullion can provide all of that and more!
Each of our .999 fine silver sports-themed medallions features a non-dated reverse with the weight (ONE TROY OUNCE) and purity (.999 FINE SILVER) designated around an area left blank for optional engraving. In 40 characters or less, you can commemorate dates, names, special messages, and more! Allow one of these one Troy ounce silver pieces to say everything to that special athlete in your life!
Here are some of our Fall sports themed medallions:
This obverse features a football player geared up and running on the top outline of a football. Football is engraved in classic lettering with the popular motto, "HUSTLE, HIT, AND NEVER QUIT" displayed around the outer rim of the design.
A golfer swinging a golf club on the top of the silhouette of a golf ball and tee is depicted on the obverse of this medallion. Golf is featured in classic lettering with the words "DRIVE THE GREEN SINK THE PUTT." and inscribed along the outer rim.
This round features a soccer player (either male or female) on the obverse, ready to kick the soccer ball on top of a silhouette of a soccer ball. Soccer is seen in classic lettering with the words "WHATEVER IT TAKES ONE TEAM, ONE GOAL" inscribed along the outer edge of the top and bottom of the design.
A volleyball player striking a ball on top of a silhouette of the volleyball is seen in the middle of this obverse. Volleyball is seen in classic lettering with the motto "BUMP • SET • SPIKE, DOMINATE!" inscribed along the outer rim.
Adding to your personalization, choose a custom outer box sleeve with a ribbon featuring the color of your choice (most likely a school color). There are also a number of alternate packaging options available upon checkout!