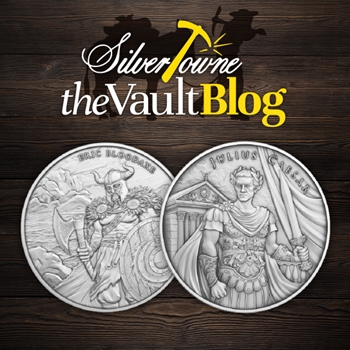 "Courage, above all things, is the first quality of a warrior." - Carl von Clausewitz
Courage, bravery, fearlessness… these are a few of the qualities that come to mind when we think of a warrior. History is rich with brave, fierce individuals who fought in wars and battles of the past. Those standout warriors became legends.
New from Pinehurst Coins comes the Legendary Warriors series. Celebrating the most famous warriors from history and legend, this brand new series will feature a total of 15 medallions, each with a unique warrior highlighted. Each round is one-troy-ounce .999 fine silver and proudly minted in the USA at the SilverTowne Mint.
Kicking off the series in the very first release is the famous viking, Eric "Bloodaxe" Haraldsson. As king of Norway, historians say he was brutal, oppressive and unpopular. Upon the death of his father, Bloodaxe gained the throne by exterminating his own brothers, giving him complete control of Norway. Legend asserts that a younger brother survived and challenged him for control of the kingdom. Bloodaxe supposedly gave it up without a fight and was later banished from Norway. He then traveled to Northumbria (modern-day north England), where he led horrific bloody raids on Scotland. Other legends maintain that Bloodaxe invaded Northumbria and took the kingship there by force.
The second release in the Legendary Warriors series commemorates Julius Caesar. As one of Roman history's most noted leaders, Caesar formulated social, land, and governmental reforms, which included the creation of the Julian calendar. During his reign he proclaimed himself "dictator for life," which led to the transition of the republic into the Roman Empire. Approximately 40 Roman senators known as the "Liberators" formulated a plot to murder Caesar in order to save liberty and democracy. Contrary to their intentions, the death of Caesar catapulted the once free republic to its demise and led to the rise of the Roman Empire.
The first two medallions are now available. Future releases completing the series will be: Achilles, Alexander The Great, Spartacus, William Wallace, Geronimo, Sitting Bull, Joan of Arc, Genghis Khan, Leonidas I, Miyamoto Musashi, Arminius, Attila The Hun, and Hannibal.