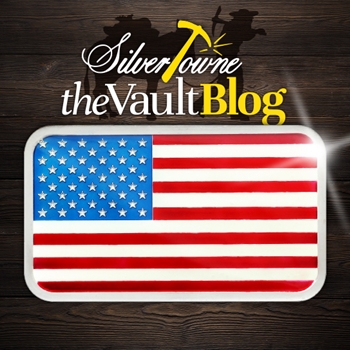 The American Flag. Stars and Stripes. Old Glory. Nothing stands greater as a symbol of patriotism and pride for this great nation. Memorialized in .999 fine silver, our American Flag bar is unique and distinctive gift for any proud patriot, and is perfect for commemorating military service, academy graduation, rank advancement, or retirement. Since silver gifts are tangible assets, the gift becomes a true keepsake, one not easily discarded or forgotten. With the potential for an increase in value over time, the gift of silver could be considered a timeless investment.
This gorgeous .999 fine silver bar is minted at the SilverTowne Mint in Winchester, Indiana, and is a new weight option in five troy ounces. Proudly made in the US, this bar showcases the United States Flag on the front/obverse with 50 stars which represent all 50 states, and 13 stripes which symbolize the original 13 colonies. For contrast as well as enhanced visual appeal, the stripes alternate between frosted and polished. The back/reverse has a waffle pattern stamped onto a reflective surface, and also contains the purity and weight designation of ".999 FINE SILVER FIVE TROY OUNCES" raised in the center.
Hand-painted by a SilverTowne staff artist, the enameling on this silver bar contains the beautifully recognizable colors of the American Flag. The rich blue-colored field or "canton" which surrounds all 50 silver stars represents vigilance, perseverance and justice. For the stripes, the vivid red color symbolizes hardiness and valor, while bright white stands for purity and innocence.
Ready for gift giving, this hand-painted five-ounce American Flag silver bar will arrive in a protective plastic capsule, cradled inside of our SilverTowne gift box. The box, also made in America, is crafted from recycled materials. Premium dark grey foam inserts hold your gift snug inside the box. Pairing perfectly with the Flag bar, the package is "wrapped" with a SilverTowne designed box sleeve in an American Flag pattern. The sleeve was designed to have a blank area on the back in which you can write a personal message to the recipient, or simply just "To/From". No additional gift wrap or gift tags are needed with the convenience of this box sleeve!
In addition to the gift of a single 5oz American Flag bar, our two-piece gift set is available for gifting. This set contains the SilverTowne minted American Flag bar as described above, paired with a 2022-dated Silver American Eagle coin from the US Mint. Silver Eagle coins, which are released annually from the United States Mint, are guaranteed by the United States government in weight and purity of 1 troy ounce .999 fine silver. Although this coin has a $1 face value, the true monetary worth lies in the silver bullion content. This 2pc gift set equals a total of 6 troy ounces of .999 fine silver bullion!
Similar to the gift of a single 5oz American Flag bar, both silver pieces in the two-piece set arrive in protective plastic capsules. A velvet insert holds both silver pieces safely, and is displayed elegantly in a SilverTowne black linen gift box. This gift package is also finished with a SilverTowne designed box sleeve in the American Flag pattern containing the blank area on the reverse for your personal message.