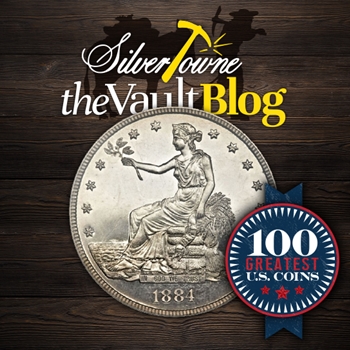 Throughout our series covering the fourth edition of Whitman Publishing's 100 Greatest U.S. Coins, we often cover rare coins. However, it is not often that we cover rare coins that come with a bit of mystery so much so that the coins just seem to have appeared years later out of nowhere from their original mintage date. Alongside author Jeff Garrett, we will explore a coin that does just that.
#66 - 1884 Proof Trade Dollar
Supported by United States Mint records, the 1884 Proof Trade Dollar has a mintage of just 10 coins. However, their mystique occurs as the coins were not known about until 1907 when six examples showed up on the market from the same source. Those coins were then distributed elsewhere along with some others that showed up on the market as well.
All 10 of these coins are accounted for as their hype has placed them in some of the most famous coin collections of all time. The finest example known came from the collections of William Forester Dunham and Floyd T. Starr. It was graded a PF67 by the Professional Coin Grading Service (PCGS) and sold at auction in 2000 north of $500,000. It then sold again in recent years for more than $1 million.
Designed by William Barber, the 1884-dated issue is said to have more claim to fame than the 1885-dated issue which is also accounted for on this 100 Greatest list (#8). Most of these dollars have made it into strong collecting hands, making their appearance on the market any time soon strongly unlikely.