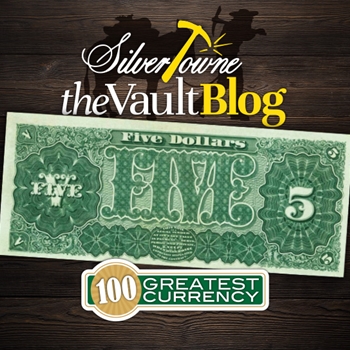 Nearing towards the bottom (or the top depending on how you look at it) of this 100 Greatest American Currency Notes list as compiled by Whitman Publishing, a series of Treasury notes made a strong case. More specifically, the $5 note of the series that authors Q. David Bowers and David M. Sundman recognize as important enough to include among all the other currency notes out there.
#90 - With Ornate Back $5 Treasury Or Coin Note, Series of 1890
Of this $5 note as part of the Series of 1890 Treasury Notes and also referred to as Coin Notes, there were 7.2 million printed and were made up of three different types. These groups included 3.5 million for the Friedberg-359 (Rosecrans-Huston) with a large brown Treasury seal, 300,000 of the Friedberg-360 (Rosecrans-Nebeker) with a large brown Treasury seal, and 3.4 million for the Friedberg-361 (Rosecrans-Nebeker) with a small red Treasury seal. Of the three types, the F-360 is known to be the rarest.
The face of the $5 note features General George H. Thomas, a Civil War military figure that graduated from West Point in 1840 and would go on into the artillery corps. After seeing action in the Mexican-American War against the Seminole Indians, he would go on to rise in the ranks during the Civil War. He commanded troops at Mill Springs, Shiloh, and during the advance on Corinth. He was regarded as a great leader although some perceived him as a Southern sympathizer but with no actual evidence of such.
The back of the note would be ornately engraved with little to no open space. "FIVE" would be displayed across the back in large letters. When notes such as these are displayed at coin shows, dealers showcase the back side.
In 1960, this $5 Treasury (Coin) Note was valued at $300 in a Choice Crisp Uncirculated condition. By 2006, the note had risen to $5,200. Most commonly, you can find these notes in a Very Good condition worth around $450 or a Very Fine condition worth around $1,100.