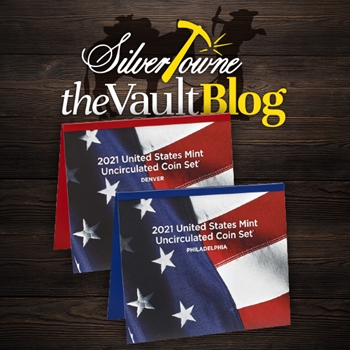 Today the United States Mint will continue on schedule for the release of the 2021 Uncirculated (Mint) Coin Set. Beginning at 12pm EST, the annual set will be made available to all collectors.
Containing seven total coins from both Philadelphia and Denver, the 2021 edition features the final quarter of the America the Beautiful Quarters series and the George Washington Crossing the Delaware quarter. Honoring the Tuskegee Airmen National Historic Site in Alabama, the final quarter of the series depicts a pilot suited up to join the fight during World War II with the Moton Field control tower in the background. The Crossing the Delaware quarter features the first President of the United States, George Washington, commanding troops overnight as they cross the Delaware River before the Battle of Trenton commences during the American Revolutionary War.
The 7-coin set from each minting facility will also feature the 2021 Native American $1 Coin that honors the military service of the Native Americans. Per usual, the set will also contain a Kennedy half dollar, Roosevelt dime, Jefferson nickel, and Lincoln cent.
With no mintage limit or household limit set, it will retail at $25.25.
Source: United States Mint