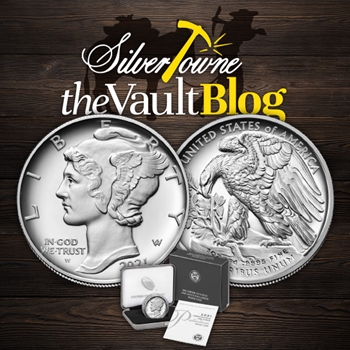 While the American Eagle One-Ounce Palladium Coin from the United States Mint alternates each year between finishes, the popularity of the coin never seems to alter at all. With spectacular design elements on both sides of the coin mixed with high relief quality, it never fails that customers want it to be a part of their collection. The 2021 version will be no different.
Starting at 12 pm EST today, the United States Mint will open sales for the 2021 American Eagle One-Ounce Palladium Proof Coin from West Point. Depicting a high relief likeness of "Winged Liberty" on the obverse, much like the one seen on the Mercury dime, the coin will feature the inscriptions "LIBERTY," "IN GOD WE TRUST," "W," "2021," and Adolph A Weinman's initials to the right of Liberty. This reflects original details from the design featured on the Mercury dime.
The reverse also features a high relief component in its version of the 1907 American Institute of Architects Gold medal reverse also originally created by Weinman. Depicting an eagle and a branch, there are also inscriptions reading "UNITED STATES Of AMERICA," "$25," "1 OZ. Pd," ".9995 FINE," and "E PLURIBUS UNUM."
Packaged in a black outer box with a gray leatherette presentation case inside, the Proof Palladium Eagle will come accompanied by a Certificate of Authenticity. Mintage and product limits are set at 12,000 with a household limit of just one. Retail is $3,350.00.
Source: United States Mint