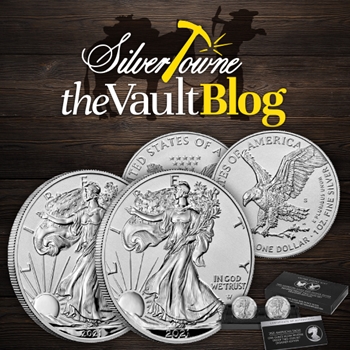 It was not that long ago that we were all consumed with a designer set from the United States Mint featuring two tenth-ounce American Gold Eagles. One of the coins depicted the Type 1 design while the other featured the Type 2. While there is not another one on the production schedule for this year featuring more gold, the next designer set from the Mint will feature two American Silver Eagles.
Originally scheduled for release today, the 2021 American Eagle One-Ounce Silver Reverse Proof Two-Coin Set Designer Edition has now been pushed back to September 13th. The set will feature one each of the 2021 Reverse Proof American Silver Eagle with the Heraldic Eagle reverse design from West Point and an Eagle Landing reverse design from San Francisco. Each will have the reeded edge variation enhanced for security and anti-counterfeiting measures.
Both the product limit and mintage limit are capped at 125,000 while the household limit is set to just one per. They will arrive in a black presentation case and come with a Certificate of Authenticity. Retail for the two-coin designer set is currently $175.00.
Source: United States Mint