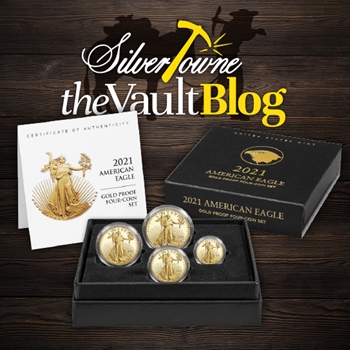 It feels as if, more so this year than any, that the United States Mint has more eyes on it than ever. Of course there are a number of new releases coming out that are more than noteworthy, especially when you consider the changes to the American Eagle Silver and Gold Program. However, maybe not such a great mention in this all eyes narrative is the fact that they are somehow undecided even when they have decided release dates and times. Let us just say that all current products on the schedule are subject to change at ANY moment. Why is this worth noting? They have just recently changed more product release dates, either delaying them even more or just simply noting them "TBD." One of those has been the 2021 American Eagle Gold Proof Four-Coin Set in addition to their individual releases.
Originally slated for a July 8th release, the set and their individual parts will now be available for purchase on July 29th at 12pm EST. The four-coin set featuring the new reverse design is minted at West Point and struck with a Proof finish in 22-karat gold. Accompanied by a Certificate of Authenticity and housed in a black presentation case, the four coins include a one-ounce $50 denomination, half-ounce $25 coin, a quarter-ounce $10 coin, and a tenth-ounce $5 coin.
The new reverse design will feature a strong depiction of an eagle. "UNITED STATES OF AMERICA," "E PLURIBUS UNUM," and "IN GOD WE TRUST" are the inscriptions seen surrounding the eagle and each representative face value and size. In addition to the new design on the reverse, details on the obverse, such as modifications to the Capitol Building, stars, torch, sun rays, and more have been made to represent the original bronze cast for the design. There is also a new anti-counterfeit element added to the reeded edge on the one-ounce coin.
With a product limit of just 10,250, the four-coin set does not currently have a retail set but does have a household limit of just one. The one-ounce coin individually is limited to 15,875 while the half-ounce is limited to 12,250, quarter-ounce is limited to 13,625, and the tenth ounce is limited to 20,250.