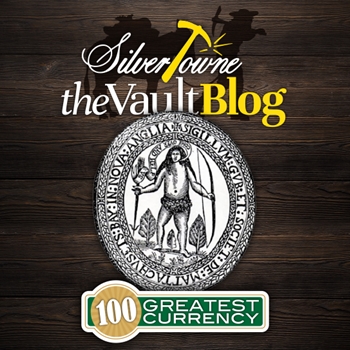 Let us just get into it: The First Government-Issue American Paper Currency. Estimated Number Known: 1. You will have to excuse the forwardness this time around when referring to the next entry in the 100 Greatest American Currency Notes blog series, but those first words speak for themselves. While not deemed #1 in the list compiled by authors Q. David Bowers and David M. Sundman, it's top five impact certainly speaks for itself. As we continue to tackle some of the biggest notes as mentioned in the Whitman Publishing publication, we specifically want to delve deeper into this entry and the significance it has in the literal world of firsts.
#3 - "Come Over & Help Us" Massachusetts Note, 1690
Issued under the date of December 10, 1690, are notes representing the first paper money issued by any government in the Western world. Those notes, representing four different denominations, feature artwork of a Native American in an ellipse (or loop) holding an arrow in their right hand and a bow in their left. A balloon caption reading "COME OVER & HELP US" is seen coming from his mouth. 5 shillings, 10 shillings, 20 shillings, and 5 pounds were the denominations issued under the date.
Authorized by the Massachusetts Bay Colony, the paper money was created specifically for paying expenses for military troops that were in action against Canada. Bills were only made valid with three signatures which came from a group of signers featuring Elisha Hutchinson, John Phillips, Timothy Thornton, Penn Townsend, and Adam Winthrop. They were exchangeable at par with any gold or silver coin available at the treasury at the time or they were receivable by the treasurer of the colony at a five percent premium when used to pay taxes.
While there is only one example known from this first issued note under the December 10, 1690, date, there are six known in a later issued run under the February 4, 1690/91, date.
In 1960, the historic market value in a Very Fine condition was $10,000. By the publishing of this book in 2006, this market value climbed to $160,000.