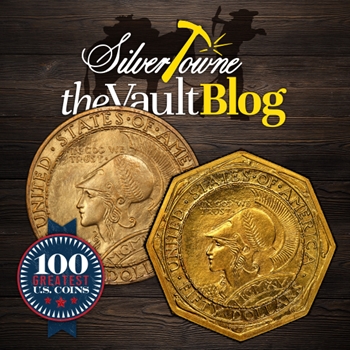 While we have been on this journey through Whitman Publishing's fourth edition of the 100 Greatest United States Coins for some time now, it would be safe to assume that we have covered some gold coins. In fact, if you remember, we covered the U.S. Assay Office $50 Gold Slugs entry towards the beginning of the series. While those coins are not on our agenda this time, a different kind of gold slug is.
With help from author Jeff Garrett, we will take a look at an even higher ranked set of slugs that come in not one, but two different shapes. As the coins were created to commemorate the opening of a very famous canal, they took on a life of their own, especially those that survived.
#21 - 1915-S Panama-Pacific Exposition $50 Gold Pieces
In 1915, the Panama-Pacific Exposition took place in San Francisco, California, in celebration of the opening of the Panama Canal. In addition, $50 gold coins were struck to commemorate the event. Those coins, also known as "slugs", weighed nearly 2.5 ounces of gold each and were a whopping 44 millimeters in diameter. This made them popular with collectors.
Having two shapes, 1,509 octagonal examples were struck while 1,510 round examples were produced. However, those pieces that were not sold were melted down and surviving mintages were much lower. For the octagonal, 645 were said to survive while only 483 of the round gold coins from the event made it. Each shape was sold individually at the 1915 Panama-Pacific Exposition for $100. In addition to the Exposition list price, it also gave buyers access to the commemorative half dollar, gold dollar, and quarter eagle for no additional fee. In this case, a set of all five coins would only cost them $200. A 10-coin set including both sets of shaped gold coins would sell for $400. These sets would eventually trade hands for hundreds of thousands of dollars over the years. Today, most of the sets that were complete have been broken up individually and certified.
In 1960, historic market value for the Octagonal $50 Gold Piece in a Choice Uncirculated condition came in at $2,500 while the Round in Choice Uncirculated was at $3,500. By this fourth edition, both are now sitting at $80,000.