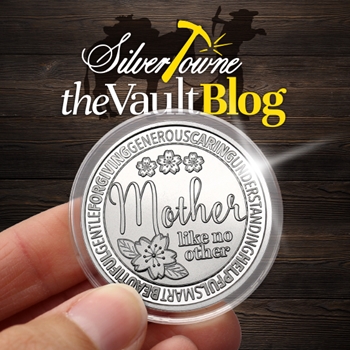 We are less than a month away from Mother's Day (May 9th) and the time you have to find that perfect gift is dwindling. Whether it is your mother, sister, grandmother, aunt, cousin, niece, or friend, let them know how much you appreciate them by choosing a gifting option like silver bullion! It's fast, it's easy, and it's convenient, but do not let that fool you into thinking that it will make it any less special once you give it to them!
Handcrafted and in-house designed with our customers in mind, we have a special occasion silver bullion line that is specifically designed around all the mothers in our lives. No matter what you are looking for, we are certain to have something for everyone.
Custom minted at our very own SilverTowne Mint in Winchester, Indiana, this exclusive .999 fine silver round features the words "Mother like no other" on the obverse with flowers above and below atop a matte background. Around the outer edge of the design atop a prooflike background are the words "GENEROUS, CARING, UNDERSTANDING, HELPFUL, SMART, BEAUTIFUL, GENTLE, FORGIVING." The reverse features our standard non-dated design that includes the weight (ONE TROY OUNCE) and purity (.999 FINE SILVER) designations along the top with an area left blank in the middle for optional engraving.
This exclusive .999 fine silver ingot features the inscription "MOTHERS HOLD THEIR CHILDREN'S HANDS FOR A WHILE, BUT THEIR HEARTS FOREVER" on the obverse. The bottom left features hearts and swirls. The reverse features our standard non-dated design that includes the weight (ONE TROY OUNCE) at the top and the purity (.999 FINE SILVER) at the bottom surrounding a blank area left for optional engraving.
Custom Boxes and Personal Engravings
To complete your gift to that special lady, your bullion piece will arrive in a protective plastic capsule that will sit tightly into our SilverTowne gift box made from recycled materials within the USA. A foam insert will ensure your piece's safety as it is custom fitted inside the box. To top it all off, our in-house designed packaging also includes an outer box sleeve with the option to choose from many available alternate designs! These sleeves also have a designated blank spot on the back to personalize the gift. No gift wrapping is necessary!
Want to take it a step further? Anything for mom, right? Right! Personalize your gift even more so with the chance to tell her just how you feel in 40 characters or less. Our standard non-dated backs include a blank area available for inscribing a special message. Make this a keepsake and treasured gift to remember forever!