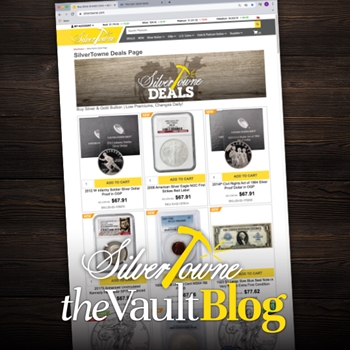 If you are a repeat visitor to our website, you know all about the "DEALS" page. If you are not a repeat visitor, you more than likely will start checking in more and more. Why do we say that? As of late, we have been listing some pretty different items than you are used to seeing on the page and it has given customers who have paid attention to that fact an upper hand. Well, we are officially letting the cat out of the bag!
While you may be used to seeing silver bullion or silver coinage like the 40% and 90% featured in the deals section, you will be seeing more and more low quantity, low priced items in the form of certified coins, raw coins, currency notes, OGP sets and more. From modern coins to vintage, we have something for everyone! Commemoratives, OGP sets from the United States Mint, backdate American Silver Eagles, pennies, dimes, quarters, half dollars, dollars, world coins, and more are currently or have been in recent weeks featured on the DEALS page with no plans on stopping anytime soon! Prices range from low to high and are perfect for anyone's collection!
Stop by and check out the SilverTowne Deals page daily or weekly as there is guaranteed to be something new every week!