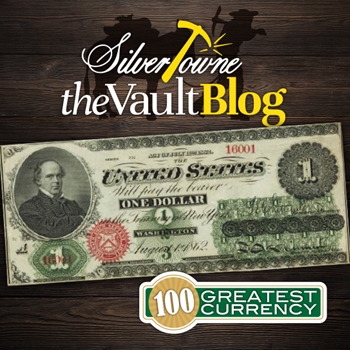 The first of anything is significant, would we not all agree? When it comes to numismatics and even more specifically, currency, this statement rings all the more true. It certainly rings true for our next entry in this continuing blog series.
Sitting just in the top third of the top 100 American Currency Notes as put together for Whitman Publishing by authors Q. David Bowers and David M. Sundman, this next entry features a popular early term used for currency in addition to being the first of their kind. They also include a portrait of a man that would eventually become President Abraham Lincoln's Secretary of the Treasury.
#31 - Early "Greenback" Issue $1 Legal Tender Note, Acts of 1862 and 1863
The Series of 1862 Legal Tender Notes were the first federal $1 bills issued. Their backs were bright green, which would eventually make popular the term "greenback." Made in large quantities, these notes are easy to acquire even today. On the face of the note, you will find the numbers 1, 2, and 3 at the lower center. The '1' is highlighted referencing the denomination of the note and it is the same for both the $2 and $3 denominations. However, no $3 notes were ever issued under this series. The face of the $1 Legal Tender Note has the portrait of Salmon Portland Chase. Under President Abraham Lincoln, Chase was the Secretary of the Treasury from 1861 to 1864.
Historic market value for these notes in a Gem Crisp Uncirculated condition reached $90 in 1960. By 2006, that same note grew to be valued at $3,200. However, other common conditions found of these notes are Very Good and Very Fine.