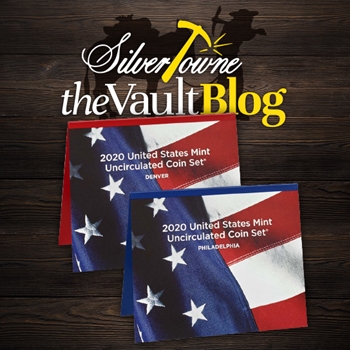 The tail end of this year is going to be jammed packed with new releases from the United States Mint! One of those releases will be the last annual set of the year in the 2020 Uncirculated (Mint) Set. With November 30th slated as the day for its issue date, there will be a few important things to mention: it will have a set mintage limit and it will NOT be accompanied by the premium bonus nickel that would have been the first-ever Uncirculated Jefferson Nickel with the 'W' mintmark representing West Point.
Including two folders featuring coins from both Philadelphia and Denver, each folder contains 10 coins with an uncirculated finish. In addition to the last five of six quarters (American Samoa, Weir Farm, Salt River Bay, Marsh-Billings-Rockefeller, Tallgrass Prairie) released from the America the Beautiful Quarters Program, the set, or each folder will feature a Native American $1 Coin with the portrait of Elizabeth Peratrovich, a Kennedy half dollar, a Roosevelt dime, a Jefferson nickel, and a Lincoln cent. The set, retailing at $25.25, will contain 20 coins overall and come with a Certificate of Authenticity.
The Mint added that due to the effects of COVID-19 on their production facilities, the quantity manufactured would be no more than 213,000, which is 137,000 less than 2019's output. They also named COVID-19 the reason there would be no extra Jefferson nickel added to the set with the "W" mintmark. While reasons seem understandable for the exclusion, the hobby may or may not have taken a hit as those extra 'W' mint marked coins had the potential to make a complete set for collectors in the coming years. Only time will tell if the hobby sees it that way or if they feel as if they are really just 'bonus' coins with no potential.