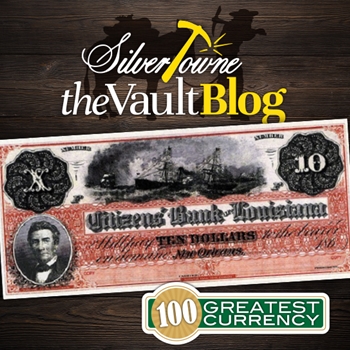 Folklore sometimes makes its way into the numismatic hobby. While it provides reasoning behind why notes or coins were produced like they were, they are not always 100% confirmed. However, a lot of how folklore makes its way into the hobby is because there is not any other particular reason why a note or coin is the way it is.
This holds true for the story behind a note that has made its way into the top 100 Greatest American Currency Notes as curated by authors Q. David Bowers and David M. Sundman. The Whitman Publishing's only edition of the series explains the story behind a word that has embedded itself into the Southern makeup of this country.
#86 - Way Down South In Dixie, "Dix" Note, The Basis For Dixie?
The question posed when it comes to the history behind this currency note and its name from the Whitman publication goes as follows: "Are $10 bills from New Orleans the source of the word Dixie?" As per the publication, folklore enters this equation as it is said that riverboat men who made their way down the Mississippi River in the 1830s and 1840s saw the $10 notes of the Citizens Bank of New Orleans. On them, they also saw both English and French. Easily seen on the notes were DIX which is the French term for ten. Two other banks in the same city of New Orleans also issued bilingual notes featuring the DIX imprint.
The publication "The Numismatist" went as far as deeming the notes "The Bank Notes That Named Dixie Land" in their July 1917 issue. In part of the article, they are quoted as saying the following:
"These notes were engraved in French, and the $10 bills bore on the reverse side the word "dix," prominently printed. Ignorant Americans living along the river knew little or nothing of the niceties of French pronunciation, and consequently to them the word was simply "d-i-x." So when they went to trade in the Southern metropolis, they said they were going south to collect some "dixies."
It is known that the Citizens Bank of Louisiana issued the $10 bills like this for a long time. The New Orleans Land and Banking Co. issued the notes as early as 1834. The DIX on the notes are bold. While folklore takes hold here, the origin of the word Dixie is not actually known. The "Dixie" $10 bills are lesser-known, but collectors do find themselves intrigued by them.
Historic market value for this note in Gem Crisp Uncirculated in 1960 falls around $15. As of 2006, the same note was valued at $575.