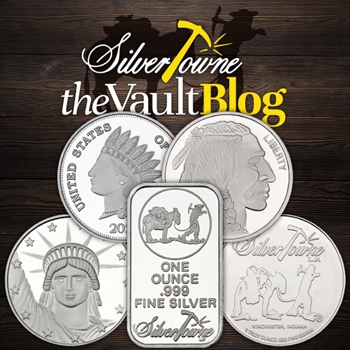 The precious metals market has been on the climb these last few weeks. Silver bullion has seen prices nearing $30 per ounce, which has made investors and collectors on both ends of the buying and selling spectrum take advantage of the market's sudden flip flop. Regardless of the rollercoaster we see every day when it comes to precious metals, it is moments like these that have those who have only thought about investing in precious metals take one step further towards the idea.
We at SilverTowne understand the overwhelming and sometimes intimidating nature that is collecting and purchasing silver bullion. Questions like "What should I buy?" and "Where do I go to get it?" are common. We are here to help answer those questions and more. Some of our silver bullion options are specifically designed with those individuals in mind. Those options are our Mixed Lot Designs.
While we have had lots comprised of 10pc, 20pc, and more, we wanted to take a moment to introduce collectors to TWO BRAND NEW 5-piece Mixed Lot Designs. These 5-piece One-Ounce Silver Medallion and Bar lots are perfect for someone looking to get into collecting for the first time. Variety, affordability, and overall enjoyment describe the purpose of these silver bullion "starter packs." They are all designed to give collectors an idea of what they might like to personally collect in the future whether it be bars or rounds or maybe even a specific design. They are able to mix it up while enjoying 'bulk bullion' prices. No matter your one-ounce preference, all are custom made at our very own SilverTowne Mint and struck in .999 fine silver!
For a total of five Troy Ounces of .999 fine silver bullion, this set features three one-ounce silver medallions and two one-ounce silver ingots. Medallions included feature a Pledge of Allegiance Eagle 1oz Round, a Saint-Gaudens 1oz Replica, and the 2nd Amendment 1oz Medallion. The bars include the SilverTowne Trademark 1oz Bar and the SilverTowne American Flag 1oz Bar.
This five Troy Ounce set features four one-ounce silver medallions and one one-ounce silver bar. Medallions included feature the Lady Liberty 1oz Round, a SilverTowne Prospector Waffleback 1oz Round, the 2020 Indian Head Cent 1oz Medallion, and a Buffalo Replica 1oz Round. The silver ingot featured is the SilverTowne Trademark Logo 1oz Bar.