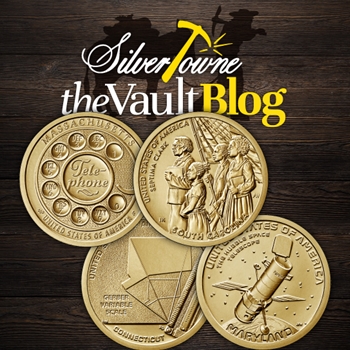 The year 2020 has been interesting, to say the least. With it came many United States Mint product delays, including the next four designs in the American Innovation $1 Coin program that officially launched in 2018 with an introductory coin and was followed up by the first four designs in 2019. The multi-year series was announced in 2018 and created with the intent to honor innovation and innovators with $1 coins from each State, District of Columbia, Puerto Rico, Guam, American Samoa, U.S. Virgin Islands, and the Northern Mariana Islands. Last year's designs featured Delaware, Pennsylvania, New Jersey, and Delaware.
On June 30th, 2020, the Mint officially announced the designs for the 2020 American Innovation $1 Coins as they appear on the reverse of the coin as the obverse features the same design of the Statue of Liberty throughout the series. Innovations and innovators this year will be honored from Connecticut, Massachusetts, Maryland, and South Carolina.
Connecticut
Designed by Artistic Infusion Program designer Richard Masters and engraved by Mint Medallic artist Renata Gordon, the reverse design on Connecticut's $1 coin features the Gerber Variable Scale. The scale is seen in the design being used to "increase a geometric shape by 200 percent" as that shape simulates the state of Connecticut. The inscriptions of the reverse feature the words "UNITED STATES OF AMERICA," "GERBER VARIABLE SCALE," and "CONNECTICUT."
Massachusetts
With AIP designer Emily Damstra in the design seat and Sculptor-Engraver Eric David Custer as the Mint engraver, Massachusetts honors the invention and creation of the telephone. The design itself depicts a dial of an early rotary phone. The reverse features the inscriptions "MASSACHUSETTS," "TELE-PHONE," and "UNITED STATES OF AMERICA."
Maryland
Mint Chief Engraver Joseph Menna is the designer and engraver behind the $1 coin for Maryland. The coin honors the Hubble Space Telescope and features a telescope orbiting the earth. The design is surrounded by stars as inscriptions featured read "UNITED STATES OF AMERICA," "THE HUBBLE SPACE TELESCOPE," and "MARYLAND."
South Carolina
The final design for 2020 will honor South Carolina's educator and Civil Rights activist Septima Poinsette Clark. Justin Kunz, AIP designer, and engraver Phebe Hemphill, help depict Ms. Clark marching along with three young African American students. The students are carrying books and an American flag, both of which represent the notion that "education and literacy among oppressed people are necessary for empowerment and enjoyment of civil rights." Inscriptions on the reverse design read "UNITED STATES OF AMERICA," "SEPTIMA CLARK," and "SOUTH CAROLINA."
The first American Innovation $1 Coin program product to be released appears to be, right now at least, the San Francisco Reverse Proof $1 Coin in Original Government Packaging from Connecticut. It is set to release on July 21st according to the United States Mint's production schedule.