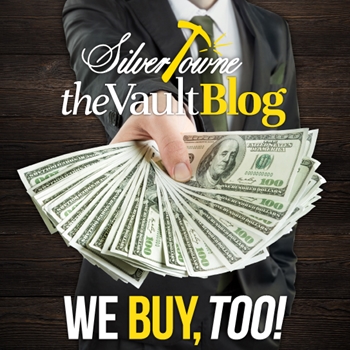 Being a retail and wholesale business, we get a lot of questions about the type of items we sell. Precious metals such as gold and silver are obviously the first thing to come to mind, but we have a plethora of items spanning from Proof and Mint sets to modern coins to world coins and bullion. What do we sell? I think we have that established for the most part, but did you know that we BUY all those things TOO?
In our retail store and over the phone, we have a number of collectors that ask questions about what we buy and how we determine it. We also have individuals who do not collect necessarily and have no idea what they have or in some cases, what they have inherited. So in order to help you out, we decided to answer a few of the questions we get from our customers.
What do you buy?
Anything on the price indicator page that can be found on the bottom left of our homepage directly under our store hours and also most numismatic collectible coins. The price indicator page functions as a guideline to determine pricing on specific gold, silver, and other precious metal offerings. The page fluctuates with the market and once refreshed, prices will change accordingly whether it be up or down. We pay the BID price, which is determined by the market. The ASK price is what a collector or dealer would be looking to get out of it if they were to sell.
What kind of items can be found on the price indicator page?
There are numerous types of both American and foreign gold and silver options indicated on the price page. American gold bullion such as Gold American Eagles and Buffaloes are itemized while world bullion such as Canadian Maple Leafs, Mexico Libertads, Australian Gold and Silver Coins, and more are listed. We buy most of these things. For example, some specific items such as a 2018 Canadian Silver Maple Leaf do not have a bid price listed currently but we would buy it at the same price as .999 silver. Foreign gold or silver not listed at all on the page can most likely be bought, but at just under melt.
Also listed on the page are United States coinage such as Morgan and Peace dollars as well as Indian Head Cents and backdate nickels that include both the Liberty Head and Buffalo types. Prices vary on precious metal content and condition if you are talking specifically about coins like the Morgan Silver Dollars.
What do terms like ".800" and "scrap gold" mean?
.800 and .500 fine silver usually refers to foreign silver. The .925 description usually refers to sterling silver such as jewelry and flatware. Scrap gold usually refers to gold jewelry, teeth, etc. (Yes, gold teeth are actually a thing that people sometimes sell.)
What other things do you buy that may not be listed on the price indicator page?
We buy most United States numismatic coins, Mint sets, Proof sets, commemorative coins (modern and vintage), and United States paper money.
What types of things will you not buy?
We do not buy foreign coinage as we do not have a world coin expert on staff. Coins with modern errors are also something we are not interested in buying as well as very little vintage error coins. Statehood quarters, Presidential dollars, Native American $1 Coins, Bicentennial quarters and halves, etc. are also coins we do not buy as we find they are worth only their face value.
How do I sell a collection or estate I've recently inherited?
Bigger collections are usually something for which we require an appointment. We have specific staff that handles the buying of estates and large collections. During those appointments, we give customers a detailed list of the value of each coin in their collection and the price we are willing to pay for it. We then give them the option to take it home as a result of wanting to talk it over or if they just needed to know what they had value-wise. It is then that we would charge an hourly appraisal fee. Customers also have the option to sell it right then to us if they feel comfortable enough to do so. If the collection is sold to us, the appraisal fee is waived. Should a customer have an appraisal done, pay the appraisal fee and then later decide to sell the collection to us, the appraisal fee is refunded. Depending on how large the collections are, we are also willing to travel.