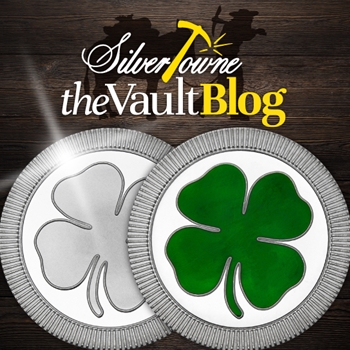 "For the whole world is Irish on the seventeenth o' March!" - Thomas Augustine Daly
Things get a whole lot greener in the month of March. The beginning of Spring is officially three-quarters of the way through the month and if you are lucky enough, the weather will begin to show signs of it. But if you are from the Midwest like us, it's a very hit or miss situation when it comes to Mother Nature.
A few days before the start of Spring though is a day that has increased the number of party beads and noisemakers needed, transformed beer from golden brown to green, and has turned the phrase "don't pinch me" into a warning for those who stalk folks who dare not to wear the color green. That day is on the 17th of March every year and it is called St. Patrick's Day.
History Behind St. Patrick's Day
Saint Patrick, a member of fifth-century society, is the patron saint and national apostle of Ireland. At the age of 16, he was kidnapped and brought to Ireland as a slave from his birthplace of Roman Britain. After later escaping, he eventually found his way back to Ireland and was recognized as bringing Christianity to its people. Following his death, which was believed to be on March 17, 461, mythologies of his life became more and more ingrained in the culture of Ireland even centuries after.
The most well-known of supposed mythology was that of the legend of his explanation of the Holy Trinity (Father, Son, and Holy Spirit) as he was said to have used the three leaves of a native Irish clover called the shamrock. People have been observing the Roman Catholic feast day of St. Patrick on March 17 now since about the ninth or 10th century. The very first parade took place in 1762 to celebrate the holiday but to much surprise, it was not in Ireland. In the United States, Irish soldiers that were serving in the English military marched through New York City with their native music. The parade itself was said to have helped the soldiers reconnect with their Irish roots alongside fellow Irishman in the army. Celebrations since then have grown exponentially during the holiday and it is now celebrated around the world.
Help bring good luck and fortune to those around you with this .999 fine silver medallion that is available in both enameled and plain silver! Each leaf of a four-leaf clover is said to represent different things: the first is to represent faith, the second for hope, the third for love, and the fourth for luck. Featuring a stackable rim, this medallion is custom minted in the United States at our very own SilverTowne Mint in Winchester, Indiana.
The obverse of this exclusive round features a four-leaf clover that has been stamped into a proof-like background. The outer rim has the interlocking Stackable finish for easy and convenient storage. The enameled version is hand-painted with a deep green color and topped off with a clear coat. The reverse depicts our standard non-dated design that includes both the weight (ONE TROY OUNCE) and purity (.999 FINE SILVER) designation below and area that is specifically designed for engraving.
To complete this lucky gift, your Four Leaf Clover Stackable medallion will arrive in a protective plastic capsule to ensure optimal safety. It will then fit snugly inside a premium dark grey foam insert that fits directly into our in-house designed SilverTowne gift box made with natural kraft paper made from recycled materials within the United States. To top it all off, choose a green bow outer box sleeve from a number of available designs to make this gift easy and convenient. There is a blank space on the back for personalization. No gift wrapping is needed!