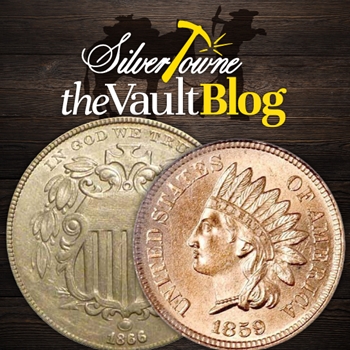 Liberty Head Gold Dollar, Indian Princess Gold Dollars, Flying Eagle Cent, Indian Head Cent, Three Cent Piece, Shield Nickel. This list is pretty impressive, especially if it is on a resumé. This list of works and more are on just one engraver's resumé and his name is James Barton Longacre. He also managed to be the fourth Chief Engraver of the United States Mint.
In our last profile of the United States Chief Engraver Series, we take a deeper look at Longacre's list of works and how he climbed the ladder to one of the most prestigious positions at the Mint and in the coin business.
Longacre's Early Years
Born in Delaware County, Pennsylvania, in mid-August of 1794, Longacre encountered grief at a young age as his mother died, his father remarried, and he left home all before the age of 12. He left to find work in nearby Philadelphia and would eventually become an apprentice for a bookseller in Philadelphia. That bookseller, James F. Watson, would take a young Longacre in as part of his family and would later find that he had skills in portrait design. After realizing this, Watson allowed Longacre to leave his apprenticeship to work on more artistic ventures. He then became an apprentice under George Murray as a banknote engraver at the firm Murray, Draper, Fairman & Co. in Philadelphia.
Building A Career
Longacre continued his work at the firm up until 1819 when he left in pursuit of his own business after building up a valuable and skilled reputation. On his own, he was engraving plates for banknotes in addition to book illustrations and portrait production of some of the founding fathers like George Washington, Thomas Jefferson, and John Hancock. Those portraits ended up in the book "Declaration of Independence" by John Binns. Other major works included plates that were used in the Science Fiction Bradford's Encyclopedia in 1820, an engraving of General Andrew Jackson, and co-designed sketches with James Herring for the National Portrait Gallery of Distinguished Americans in 1834.
Due to his influence and relationships built with the men he would portray in his works and more specifically South Carolina Senator John C. Calhoun, Longacre would eventually be asked by President John Tyler to become the fourth Chief Engraver of the United States Mint after Christian Gobrecht passed away. He would be officially named Chief Engraver on September 16, 1844, at 50 years old.
Fourth Chief Engraver Of the United States Mint
Upon being named to the position, Longacre would encounter an interesting relationship with then Director of the U.S. Mint, Robert Patterson, and Chief Coiner, Franklin Peale. Neither one got along with Longacre as this stemmed long before the Longacre's appointment for the esteemed title. This all came to a head when Congress decided that they wanted two new denominations to be produced: a gold dollar coin and a double eagle coin. Both would be designed by Longacre which caused both Patterson and Peale to go after him and try to get him removed from office. With pleas to the U.S. Secretary of the Treasury, Longacre was able to save his job. Politics and in-house fighting at the Mint were due in large part to Peale which also reverberated throughout due to his close relationship with Mint Director Patterson. It was not until the early 1850s when both men left the Mint.
Works As Chief Engraver
Longacre's first major works would be the Liberty Head Gold Dollar and the $20 Gold Coronet Head Double Eagle. Both originally minted in 1849, minor changes would be made to the double eagle as it would last until 1907. The gold dollar would last only until 1854 when Longacre would be asked to design its replacement, the Small Indian Princess Gold Dollar. The Small Princess Gold Dollar would also have a short lifespan and in 1856 would be replaced by the Large Indian Princess Gold Dollar which would again, be designed by Longacre. It would be minted until 1889.
Other than those two gold coins, Longacre would only be responsible for one other United States gold coin in that of the $3 Gold Indian Princess. The only $3 gold coin ever minted, the coin was produced from 1854 to 1889 and used the same Indian princess design as was seen on the small $1 gold coin.
First Of Their Kind - One Cent, Two Cent, Three Cent, Five Cent
Perhaps one of the most popular designs Longacre was known for was the engraving of the Flying Eagle Cent. It would be the first-ever small cent minted after the large cents ceased production. Inspired by previous Chief Engraver Gobrect's flying eagle designs, Longacre would draw the pattern designs himself and the Flying Eagle cent would be produced from 1856 to 1858.
Due to the Flying Eagle cent's difficult striking specifics, a new design was in the works by Longacre that would make it easier to produce. This new design, the still popular today Indian Head Cent, would be struck beginning in 1859 and was comprised of 88% copper and 12% nickel. The composition would then change to 95% copper, 5% tin and zinc beginning in 1864. Indian Head cents were ultimately thinner than the Flying Eagle design which with the composition changes, made it easier for them to be struck. Longacre's design for the very first small cents was thought to be inspired by his designs of the gold dollar coins he was first commissioned to complete as Chief Engraver just a few years prior.
Among Longacre's most famous of works, he was also responsible for the design of the two-cent piece, three-cent piece (both silver and nickel), and the very first five-cent nickel. Known as the Shield Nickel, the coin would be produced in 1866 and last until 1883 and was the very first coin of its denomination. It would later be replaced by the Liberty Head nickel.
Longacre's Career
Eventually passing away on January 1, 1869, Longacre would be succeeded by close friend William Barber. The following year in 1870, many coins from his estate would be auctioned off. While at the United States Mint, Longacre made quite a name for himself and is recognized as a major contributor to the numismatic business even today. During his tenure, he also oversaw the opening of the San Francisco branch of the United States Mint in 1854. He was commissioned to do works outside of the Mint even while in office and is perhaps one of the most decorated coin designers in history.