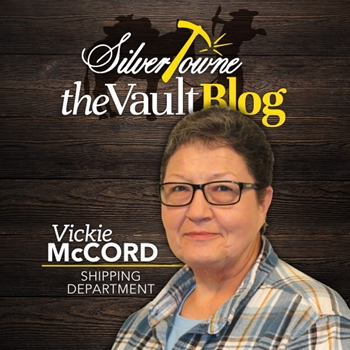 Vickie M., Shipping Department
Coming up on 15 years at SilverTowne, Vickie has spent most of her time in the shipping department making sure that when people order from us, they get what they ordered and they get it safely. With high dollar products going in and out of our building every day, that job is pretty important. With a decade and a half under her belt, it is no surprise that she has seen a lot and done a lot in that time frame, including jobs outside of the shipping line.
Beginning Job Title: "I was hired into the shipping department from the very beginning. Back then though, I also did a lot of the building of projects like books, mint/proof set runs, pennies, nickels, etc. I also was in charge of being responsible for the people that were sent to us to ship from other buildings when it got really busy making sure they were doing everything correctly and so on. I filled orders, worked in the jewelry department and at the Mint. Lots of odds and ends jobs."
Current Job Title: "I look at the orders and match them with the product to make sure it is right. I have to make sure I pick the right boxes or envelopes that match the size or value of the products. I package everything and send it down the shipping line."
Favorite Part of Her Job: "I really liked building the projects I was talking about and filling orders because I learned a lot about the product when I did that."
Biggest Changes Over the Years: "I guess the people that have come and gone has changed a lot. Also, the volume of orders when it comes to bullion versus numismatic. We use to do a lot more bullion but now it seems like we do a lot more coins. Our company has changed a lot too in just the way we operate with more efficiency but with fewer people."
Biggest Surprise Over the Years: "People still love those pennies. They just keep buying them! All the pennies over the years and people just love them."
Fondest Memories: "Leon used to come down and tell us we could have a day off tomorrow and it would be on like a Friday or right before a holiday we would already get off. He used to call our stations "stalls" too. He'd say, "I see you girls are in your stalls." We also used to have employee appreciation days too when we would all get a different day and we had to come up with a theme or idea for that time."
What She Looks Forward To: "I look forward to keep being a part of the growth of the business and seeing it be successful."
Additional Thought: "When I first came here, I was so overwhelmed. I never thought I would learn this stuff and for the longest time I could not figure out the difference between an uncirculated coin and a proof coin. Before I came here I did not know the slightest thing about coin collecting so it really wowed me when I started. I've enjoyed learning so much over the years."
Favorite Period of Music: "I think my favorite person to listen to would be Alan Jackson's Christian music. I like country music but the older stuff. My favorite period overall I think is from the late 1950s through the 1970s."