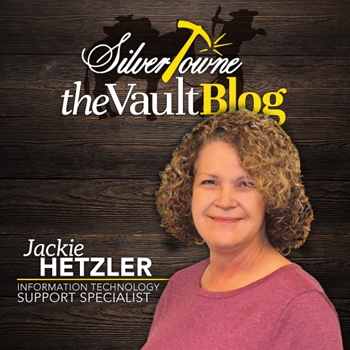 Jackie H., IT Support Specialist
Impressions. We all have them of one another and made about us. When it comes to job interviews, they are pretty important. So what does it say about a person when they interview for one job and get called about another? Regardless of the position, that place of business thought you were right for them.
Although interviewing for an entry-level network engineering job, Jackie was called back to be told two things: she did not get the engineering job but was offered a place in fulfillment taking care of what we call "the cage" (home of the Proof and Mint sets). She thankfully took the job and has been here ever since June 18, 2007.
Beginning Job Title: "I worked in the cage at the very beginning until I was asked to move to the vault full of graded coins. There was so much inventory in there and once I realized how much money all the inventory was worth in there, I had a panic attack. While I was in there though, I also worked in the IT department part-time as part of my internship through school. Once I graduated with my bachelor's degree, I moved full-time into the IT department in 2009."
Current Job Title: "I am currently the first line of defense when people are having issues with their computers, printers, etc. I build, fix, and install computers, fix printers, install software and do updates, handle server updates, on-call for the call center, hotel, theater, and the community center whenever they have a problem. I help in any which way I can. I'm currently the lead for our e-mail migration."
Favorite Part of Her Job: "Everyday I do the same types of jobs, but it's all different. Every day is different which makes it possible for me to still learn new things. That's the favorite part of my job. I'm still able to learn something new."
Biggest Changes Over the Years: "When it comes to my job now, everything was brand new when I first started. Being a woman in this field is hard in general because men just kind of assume that you don't want to lift heavy, do grunt work, get dirty, pull wires, etc. I had to work really hard to prove myself. Brian (her supervisor) told me that he didn't think I was going to make it at first. I've been in crawl spaces and attics and come out covered in insulation from head to toe. To this day I thank Brian all the time for allowing me the opportunity to prove myself."
Biggest Surprise Over the Years: "In terms of the company, the fluctuation in the market still surprises me. I think when I started gold was like $300 an ounce and now it's over $1,500. I've been here when silver was $9 an ounce and when it was nearly $50 an ounce. How this company has handled what's been thrown at them over the years is big. They do what they need to do and still take care of their employees."
Fondest Memories: "When I first started here, they did a picnic and my kids had a blast. I also remember a specific moment with Leon when my kids stopped by because they wanted to see where I worked. I remember introducing them to him and he said, "hang on a minute." He returned with a silver dollar for each of my girls. His love for the business and for people was so massive. Everything he did was heartfelt and they took care of their employees. From my job standpoint, I had the most fun with Brian when we built the top two floors of the theater. It took us both six months to do it and we pulled 97,000 feet of wire. It was a lot of work but it was so much fun."
What She Looks Forward To: "Watching the company grow. Things are changing so much and technology is changing so much. There is always something new to learn. Watching this company grow as a whole is exciting to think about."
Additional Reflection: "I can honestly say that David (Hendrickson) was there for me during one of the roughest times of my life. He helped me through a lot and I don't think he realizes or ever will realize just how much he did."
Favorite Period of Music: "80's music was the best across the board. I would say Whitesnake is my go-to though. When I'm cleaning or busy trying to get something done, Whitesnake is always the first to get played."