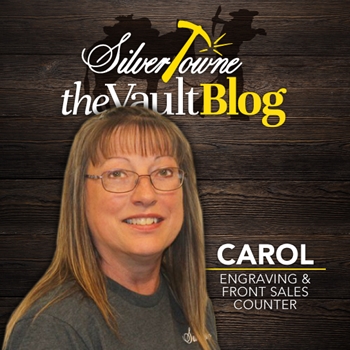 Carol S., Engraving and Front Sales Counter
The date: February 5, 1996. The position: front sales counter. The new employee: Carol.
Nearly 24 years ago, Carol was working at a job that was no longer going to be there, prompting her to quickly go into panic mode as anyone would having three young teenage girls at home. It was out of the blue that she received a call from none other than the late Ruhama Hendrickson, the matriarch of the family business, SilverTowne, and the partner in crime to the late founder Leon Hendrickson. The rest is history as Carol has walked through these doors ever since.
Beginning Job Title: "I worked nine years at the coin counter, buying and selling coins and then ordering supplies for the shop. They then moved me to engraving and I've been there ever since."
Current Job Title: "I do all the engravings throughout the year which keeps me really busy. I still order supplies and I help out at the front counter when I'm needed."
Favorite Part of Her Job: "I love the busyness of it with all the engravings. As hectic as the Christmas season is, I wish it was like that all year round. I just love it."
Biggest Changes Over the Years: "When it comes to just my job in engraving, the spelling of names over the years. Sometimes it is really a challenge because I see a name and I have a tendency to spell it the way I'm used to spelling it which is not good in my case because you don't want to keep going through silver bullion to get it right. I suppose it's a generational thing."
Biggest Surprise Over the Years: "It still surprises me how much money people invest or spend when it comes to silver and gold. There are customers that can drop money like it's nothing."
Fondest Memory: "The first thing that stands out in my mind is my first day. I bet I hadn't been here for two hours yet, when Leon called me into his office and asked me to count $35,000. I hadn't seen that much money in one spot in all my years. It was just laid out over his desk. To this day I don't know if it was a test to see how I would react around that much money but I will never forget it as long as I live."
What She Looks Forward To: "Seeing where the new leadership takes us. Some things have already changed and I'm interested to see what the future holds. And then when it comes to engraving, I'm excited to see how much it grows. Personalization has exploded over the last few years."
Additional Reflection: "You know, sometimes you find a job and sometimes the job finds you. This job I have right now was given to me by Ruhama and I will be forever grateful. A lot of people don't know this but it changed my life and my future. I consider everything I have here to be God-given because he whispered at that time in my life and these people listened. I will forever be grateful to the Hendrickson family."
Favorite Period of Music: "The 70s, classic rock. It was the music of my teenage years."
When not working her 8-5pm here at SilverTowne, Carol enjoys camping, checking out a garage sale or TEN, and spending time with her fur babies (namely the puppy love of her life Sammy)!