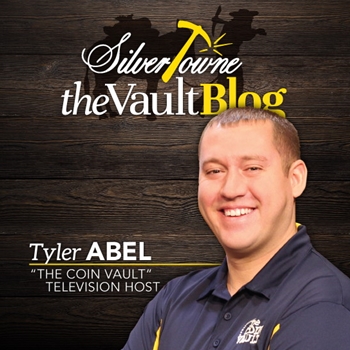 Tyler A., The Coin Vault Television Host/Limited Shareholder
As the youngest grandchild to late founder Leon Hendrickson and his co-pilot Ruhama, Tyler essentially grew up in the business but did not start his full-time tenure here officially until June of 2004. While under the wing of his grandfather, father, and brothers, Tyler's time here at SilverTowne has consisted of job titles ranging from buyer and seller, auctioneer, and now show host for SilverTowne's subsidiary company's television program The Coin Vault.
Beginning Job Title: "I started out buying and selling at the front counter. I also went to a lot of coin shows. And then eventually I started SilverTowne Auctions (no longer running) after I got my auctioneering degree."
Current Job Title: "Now I work on the show (The Coin Vault). I come in, look at the orders that need to be filled with Vault Finds, and then I look at the table and go from there. That table tells you everything you need to know about that day's show."
Favorite Part of His Job: "Working with people. I like being in my hometown and I don't have to travel as much anymore."
Biggest Changes Over the Years: "Business has slowed down in that it isn't all bullion focused. It used to be nothing but bullion but now collectible coins and numismatics are coming back. It's more numismatic driven now I would say than bullion driven. Grandpa used to say "if it doesn't melt, it doesn't fit." But that has changed quite a bit and modern coins are coming back."
Biggest Surprise Over the Years: "By far 2011 when silver went up to nearly $50 an ounce. It was like a bomb went off and we continuously were getting our butts kicked with how busy it was. I've never seen anything like it you know, but it was a lot of fun."
Fondest Memories: "Being around grandpa and learning and going to coin shows. I used to go to a lot of coin shows over the weekends."
What He Looks Forward To: "The business in general and getting young people involved. I look forward to teaching my kids about the business. We really need to get young people involved as that's a big threatening factor in the future. We need to take them away from the Xbox and give them a Red Book."
Favorite Period of Music: "Classic rock for sure. Bob Seger, stuff that has soul.