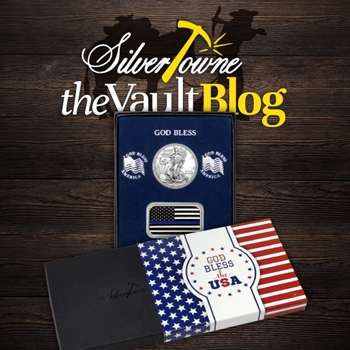 We have talked about it before and most likely will again: silver bullion is the ultimate gift. There is no other way to put it really. In a consumer society, we identify too much with materialistic things that lose their value the moment we buy them and only continue to do so over time to the point that we donate them or just end up throwing them in the trash. We are all guilty of it. It is time we become more sensible in our approach to consumer products which in turn, translates into the way we gift to others.
In this changed approach, we land on silver and its benefits both present and future. What is so special about silver? In a general sense, silver and other precious metals have the potential to increase in value over time. Physical silver is a form of the most secure protection you can get when it comes to your investments. Simply put, owning silver is smart and gifting it to someone else is even smarter. Aside from the tangible and physical, the knowledge and information that accompanies it after it has been unwrapped is intangible. Price tags do not mean anything here because the gift means more than any article of clothing or the latest technological find.
Advantages of 2 Piece Gift Sets
Lucky for us and lucky for our customers, we have the capability to make a lasting impression on anyone looking to take their gift giving to the next level. Aside from the multitude of silver bullion options when it comes to weight, size, shape, themes, designs, quantities, and more, perhaps the best gifting option we have comes in the form of the 2 piece gift set. Why? Well, where do we begin?
Perhaps the biggest reason our 2 piece gift sets are a great option is the ability it has to make those unaware of the coin collecting hobby more interested. Most 2 piece gift options, in addition to a SilverTowne minted silver bullion piece of your choosing, comes with a year-dated American Silver Eagle. In addition to a silver bullion piece, you get a silver bullion $1 face value coin that is issued and backed by the United States. It is a real coin and can get the most novice of collectors interested in coins and their history. The snowball effect potential here is real folks. It is time we get back to the hobbies our grandfathers and fathers grew up in rather remaining glued to our phones, televisions, and computer screens.
In addition to a year-dated 2019 American Silver Eagle, customization is key when it comes to the sets. Weddings, anniversaries, birthdays, graduations, new babies, holidays, or just an overall moment that calls for a celebration are perfect life moments that deserve a top tier gift. 2 piece gift sets are exactly the thing that can up your gift-giving game while remaining frugal. Is a one-piece bullion option just not cutting it? Would you like to spend a certain amount to make it worthwhile and you just have not reached that number yet? Game, set, match. 2 piece gift sets are the winner. The price point remains high enough to remain substantial but low enough to make it budget friendly. You will not break the bank trying to outdo others. The happy couple does not need another blender.
American Flag Silver Bar and Silver American Eagle 2 Piece Gift Set
In our line of over 100 options to choose from when it comes to these wonderful sets, the American Flag Silver Bar and Silver American Eagle combo is a popular choice. Our patriotic themed silver, in general, is always a popular choice for obvious reasons, so it is no surprise that this option remains at the top. Even better yet, all products from the bullion to the packaging are MADE IN THE USA!
Perfect for upcoming 4th of July celebrations, this patriotic gift contains a total of 2 Troy ounces of .999 fine silver. Custom minted at our very own SilverTowne Mint in Winchester, Indiana, this set includes a 1oz American Flag Bar with an engravable back that represents the Stars and Stripes in its full glory as its obverse design features all 50 stars and 13 stripes. The second ounce of silver comes in the form of a year-dated 2019 American Silver Eagle in BU condition issued and backed by the US Government with a face value of $1.
To finish the complete gift, each bullion piece comes in a protective capsule that fits perfectly in a two-piece mat that is silver foil stamped on a number of different colors that unfortunately, we cannot guarantee when it comes to which one is received. Mat colors usually consist of black, green, red, maroon, and blue. The mat fits directly into our in-house and newly designed black boxes that feature a black linen box wrap and a black on black SilverTowne heat stamped logo. Talk about sleek!
Whew, we still are not done! Choose a custom outer sleeve like the God Bless the USA Patriotic box sleeve, or from a number of others, and avoid gift wrapping. There is a designated area on the back that remains for optimal personalization. Need more personalization? Engrave the SilverTowne custom minted silver bullion piece with a special message for the giftee. 40 characters or less allows for the most memorable of keepsakes!
Also available is an Enameled American Flag Silver Bar and Silver American Eagle 2 piece Gift Set.
Coming Soon To A Cart Near You
In addition to our numerous 2 piece gift set options, coming soon are Christmas options! With no available date yet, stay tuned for these great gift ideas as we are soon to release our 2019 Christmas collection lineup! Pair them with year-dated 2019 Silver American Eagles are you are guaranteed to be deemed the best gift giver EVER!