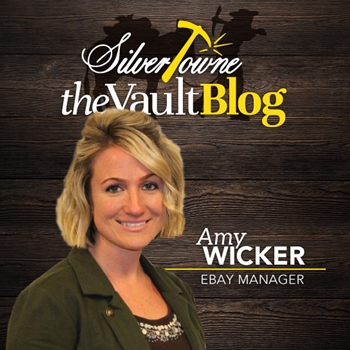 Amy W., eBay Manager
On June 10th, 2013, Amy would walk through the doors at SilverTowne without any sort of knowledge about the coin business. To be honest, that is the case for a lot of employees. Nearly six years later, she has the sole responsibility of a department within the business and now knows more about silver bullion than a lot of people that walk through the doors here at the shop.
Beginning Job Title: "I was first hired in to do fulfillment. I did both SilverTowne orders as well as our television show's (The Coin Vault) orders."
Current Job: "I run our eBay department. I do a lot of different things really. From placing listings and constructing spreadsheets comprised of our daily deals every week to customer service to working with eBay teams in California to decide what the best bullion pieces are to put out. I really kind of do it all. I also handle PayPal issues and cases in addition to purchasing some specific customer items for The Coin Vault."
Most Surprising Thing Over the Years: "Before I worked here, I didn't know the significance of silver. I think at one time I received a coin and didn't know what to do with it. Now I wish I would have kept it! But really, it is neat to see how many people invest in it (silver) and how much they really get into it."
Biggest Changes Since Beginning eBay: "From my perspective, really just how many people are looking to buy silver for investment purposes. More people are looking into special occasion bullion. Just the increase of people when it comes to looking to buy silver."
Favorite Part of Her Job: "I'm doing essentially everything there is to do for eBay. So I don't really have a favorite part because I do a bunch of different things every day. It's really my baby. I run it and operate the department all on my own. You know, it's even made its way into my personal life because now I'm more partial to eBay as a whole. If my husband starts ordering something online from somewhere else, I tell him, 'no, you need to order this from eBay!' I'm pretty protective of it. When I started in eBay, there were four of us and now it's just me. The responsibility is something I enjoy and take pride in."
Fondest Memories: "When I first started working here, I really enjoyed my time in fulfillment working with Kristine and Jesse (co-workers). We just had fun and we got along. And then, of course, the Christmas parties. Those were the best."
What She Looks Forward To: "In the general sense when it comes to our business, it's nice to see Tanda and the grandsons continue the legacy. She's always had a love for the company, so her taking over made sense. In a more specific way, I always look forward to Christmastime around here. The business gets so busy. I enjoy the organized chaos of it all really. It's a tremendous challenge to get all the things done and out around that time but when it's over, I always realize how busy it was and how much I enjoyed it."
Favorite Period of Music: "90's pop. The boy band era if you will. I still love it all."
When Amy is not working on everything eBay, she is a prideful travel ball and wrestling mom. A mother of two to Chloe and Reed, she and her husband are constantly running from fields to mats to courts and so on. When not on the run, she and her family enjoy watching their favorite sport, the NBA. A favorite team? "I like the Oklahoma City Thunder but we really just like them all. We like watching it together as a family.