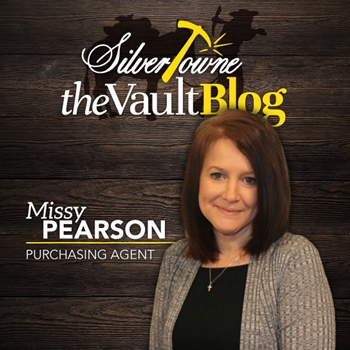 Missy P., Purchasing Agent/Sales Order Processing/Product Identifier
The summer of 2002 was the beginning of a long journey for Missy here at SilverTowne. From a short period answering telephones to working inventory and fulfillment to being fittingly titled as "The Glue" for our subsidiary company's television show, The Coin Vault. She has seen it all, done it all, and knows it all (but in a good way).
Beginning Job Title: "I was hired on in June of 2002 answering phones. Not too long after that, after I told David that the upstairs vault needed to be desperately organized, I started working with the inventory and doing fulfillment. I started doing technical and logistics sheets for Robert (late show host of The Coin Vault) for the show. We worked together on all the product. I did that from 2004-2012."
Biggest Surprise Over the Years: "The dynamics of how it has changed here over the years. We no longer have novelty or jewelry. You know, spot was $5 when I hired in. And then in general, the buyer's appetite has really changed."
Fondest Memories: "I was really a fan of the 24-hour coin shows. The volume of orders and product was just insane. Everyone had to be on board to make that work and to get stuff out the door. And then when we bought the semi-truck loads of pennies that we had high schoolers and college students sort during the summer of 2012. There were so many bags."
Favorite Part of Her Job: "I really enjoy purchasing. I make it a game because I do NOT like having open orders. I also enjoy the people I work with. We really are a great big family."
What She Looks Forward To: "I'm just excited about being under new management and seeing where we are going to go and all the new avenues we will go down."
Oh, Wait! One More Fond Memory: "I was really happy when I moved from the little vault upstairs to the brand new big vault downstairs. It was like my new house."
Favorite Period of Music: "The 80's. I was old enough to remember the music specifically. It was the music of my high school years."
When Missy is not purchasing product for The Coin Vault, she is also the head chef on show nights (Monday, Tuesday, and Thursday) when feeding the crew and a stand-in producer/camera operator. Outside of work, Missy enjoys spending time with her son Mason, playing with her pups, biking, and just being outdoors when she can.