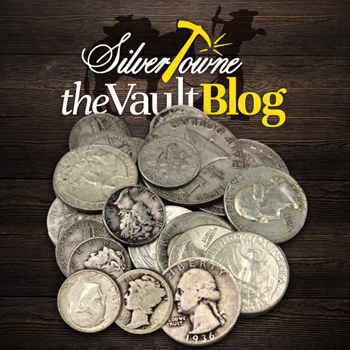 Predominantly in the bullion game, SilverTowne has prided itself on the number of options it has when offering one-ounce, five-ounce, ten-ounce, and more when it comes to bars and rounds. We have even offered 100-ounce bars before making our presence in the silver bullion market quite remarkable. But what some may not realize in addition to silver bars and medallions, we offer silver in a variety of other ways including, but not limited to, 90% silver coinage.
Pre-1965 coinage is loaded with history but in most cases, the market for this type of coinage is not exactly for collector types. Do not let that deter you though as 90% silver coinage, in a general sense, is just another way to collect silver. But as skeptics go, we can see your wheels turning already: why would I want 90% over a full ounce of silver? No one is arguing the physical part of the question, just the intentions and ideas behind it.
United States Mint Coinage, Pre-1965
Need we say more? 90% silver coinage is Made in the USA, which is a big deal for a lot of coin collectors and numismatists. Consisting of dimes, quarters, and half dollars, 90% silver coinage at one time was used for everyday needs just like today's pocket change. The United States Mint produced the coins and for that reason alone, perhaps 90% silver is worth the addition to your portfolio.
No Need To Test
Picture this: you have silver bullion pieces that you have purchased through either a dealer or at a coin show or even online. As the owner who is looking to sell, walking into a coin shop with bullion, or anything numismatic really, automatically results in testing of the content. Is it real? Does it have .925 or .999 fine silver? Seems like not that much of a difference but there is when it comes to the coin hobby.
What does this have to do with 90% silver coinage? Pre-1965 coinage does not need to be weighed or tested for its content like a lot of precious metal product today. Each $1 face value bag of silver coinage adds up to .715 ounces of actual silver weight. Collectors and dealers know right off the bat and they will pay accordingly. No appraisal needed.
Rich History
Think about all the history that occurred before 1965. Roosevelt Dimes, Franklin Half Dollars, Washington Quarters, the one and only 90% Kennedy Half Dollar. All of that is not including the time period where silver coinage was totally revamped in 1917 when the designs of the Mercury Dime, Standing Liberty Quarter, and the Walking Liberty Half Dollar was released and forever changed the way American coinage was designed, engraved, struck, and produced! Need we say more of the literal history in your hands?
Featured Product
We have a 90% silver coin grab bag collection that would make every cherry pickers dream come true! If you are one that enjoys laying out a bunch of coins and going through them will friends and family, we have everything you need! These grab bags are a way to increase the value of your collection while preserving United States Mint coinage!
Including a random selection of 90% silver coins that will arrive in a resealable plastic bag, these coins are available in $1 Face Value increments. Each lot value will add up to the specified face value chosen which will result in different variations and numbers of coins per lot ordered. To complete your storage needs, we also have a blank canvas bag that can be added to your order.