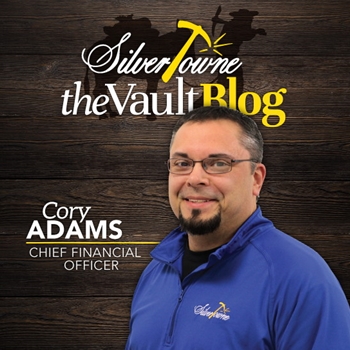 Cory A., Chief Financial Officer
On May 7th of 2018, Cory walked through the doors at SilverTowne not knowing what to expect in his new role. With over 20 years of experience working in similar positions to his current role, he only ever worked within one type of business: manufacturing. To make a long story short, his whole world changed once he started working at this family coin business.
Beginning with SilverTowne
Favorite Part of His Job: "Working with numbers."
Biggest Difference From Previous Jobs: "Since day one, I've always worked within a manufacturing or automotive business. Working in a coin business is a whole new world."
Biggest Surprise Since Starting: "The sheer volume of business in general just kind of floors me. The amount of money there is in coins; I had no idea. I've lived 20 minutes away from here my whole life. I knew the business was here and I had maybe came here once over the years, but the volume of business is just something I never expected. Also the television show (The Coin Vault). I didn't realize all that time that it existed."
Main Objective of His Role: "Financially, how to improve the bottom line. Previous jobs I was always looking at how to manufacture product cheaper. The biggest thing here is looking at margins in addition to eliminating costs. It's challenging but in a good way. It's a new industry, but it's pretty cool trying to learn all this new stuff."
Favorite Type of Music: "Classic rock. Mainly The Eagles and Boston. I really like The Eagles."
As important as his role is here at SilverTowne, perhaps more important is his role as husband and father as he enjoys doing multiple activities with his family in his spare time. He also enjoys playing golf and rooting for his favorite team, the Pittsburgh Steelers (we try not to hold that against him).