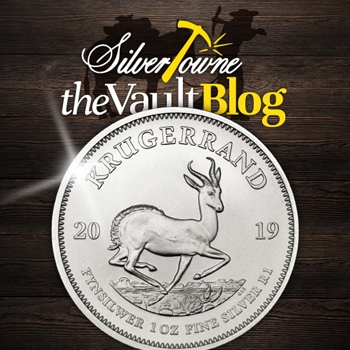 Springing into the new year is the 2019 Silver Krugerrand!
This .999 silver bullion piece weighs 1 Troy ounce in brilliant uncirculated condition from the South African Mint. With a 1 Rand denomination, this legal tender coin is technically in its third year of issue but only its second year as a bullion struck coin.
Krugerrand History
First minted in the summer of 1967 to help promote the production of gold in South Africa by the mint, the krugerrand quickly became one of the top gold bullion coins used for buying, trading, and selling within the world market. By 1980, Gold Krugerrand made up 90 percent of the gold bullion offered.
Design of the Krugerrand
The obverse features well-known political figure Paul Kruger who was the President of Zar (now Transvaal Province of South Africa). He was a controversial leader to some as he led the charge against Great Britain in the Boer War until he was forced to retreat to Europe in the early 1900's. He later passed in July of 1904.
The reverse depicts an abundant animal within parts of South Africa known as the springbok antelope, which also happens to be the national symbol of the country. The design itself, front and back, has not been changed in over three decades.
During the Gold Krugerrand's 50th Anniversary in 2017, a first ever silver coin was struck in premium uncirculated. Due to the popularity of the silver piece, the South African Mint responded by creating an annual brilliant uncircualted issue, or bullion edition, coin that is currently in its second year with the 2019 release.
All South African Krugerrands are produced at the Rand Refinery in Germiston, South Africa. This accredited global precious metals leader is responsible for a variety of products as they coin Rands and other precious metal currency within the Republic of South Africa.
(Sources: www.britannica.com; www.randrefinery.com)