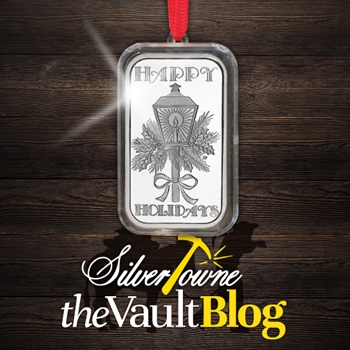 ♫♫...it is the night of our dear Savior's birth. Long lay the world in sin and error pining, till He appeared and the soul felt its worth. ♫♫
We are halfway through December and the busiest time of the year has somehow managed to get busier. How is that possible?
Our doors are constantly being opened with a influx of wonderful customers bopping along to the latest Christmas tune as they hope to make some great gift purchases. We at the coin shop are constantly shipping packages, filling orders, and buying or selling silver at a rapid pace. This particular workshop has some of the busiest elves. You didn't think Santa could do all that himself did you?
Nonetheless, we are committed this time of year and our employees do the absolute best they can to keep up with the demands the Christmas season impresses upon us. Why? Because that is what this family business is built on and we would not have it any other way.
Tyler, Grandson/3rd Generation Numismatist, Reflects on Christmas
The youngest grandchild of our founder and forever mentor Leon Hendrickson, Tyler's day-to-day gig consists of getting ready for his show host duties on The Coin Vault, a television program and division of SilverTowne. As a part owner and family member, Tyler has purchased and sold his fair share of numismatics and precious metals since his full-time employment began in June of 2004. He also used to be in charge of SilverTowne Auctions.
With so much experience under his belt, Tyler has seen the market do some pretty incredible backflips.
"By far, in 2008 when the recession hit, is when I vividly remember this place just going crazy," he said. "Precious metals went through the roof and lasted until about 2012. I hate to say it but the country was in shambles and our business just increased more and more. I did A LOT of buying and selling at that time."
During that time, he also remembers specifically the coin shows and how busy they were.
"I remember taking two vans to either the Dalton show or the Chattanooga show one year," he recalled laughing, "And on the way back we had to leave Dad (Tony) down there because we were at such capacity on those vans that he didn't have anywhere to sit. There was no room for him. We had to send Kenny (a driver) down there to get him the next day. That's how much we were buying and we always brought back way more than we took."
Aside for the massive amounts of product going to and from shows, Christmas silver was always something that went with them as Leon made sure of it.
"You always had the same people that picked up Christmas silver at shows," Tyler said. "We had a specific table set up for dealer pickups but you also had the general public shopping that table. You may have had a family and the parents would tell their kids to pick one piece of silver. Grandpa treated everyone the same whether you were picking up a thousand ounces or two. He might have even treated the family of four a little bit better."
Leon had a rich history of helping out anyone he could and this included all of his customers. As the owner and founder of a family business, his core attitude towards treating everyone the same really grew during the Christmas season and by Christmas season, I mean Thanksgiving.
"The Christmas season really started at Thanksgiving because we would have our family gathering that started at noon," Tyler explained, "And Grandpa would let us eat first and we would be out the door by 12:30pm or 1:00pm at the latest headed to Dearborn, Michigan, for a show. We would set up tables and have all our pamphlets ready and Grandpa would always make sure to set up a special table for the Christmas silver. He knew what a lot of the collectors and the dealers wanted."
Currently, SilverTowne offers a wide range of packaging options for special occasion pieces including Christmas as it always does the best year after year. This only started a couple of years ago.
"I really like all the packaging," Tyler commented. "Grandpa would have really loved it too. I don't know about you but I hate wrapping gifts and you don't have to do that with all the sleeves and everything. Our packaging has really evolved."
His favorite Christmas silver piece?
"The classic Santa face," he said. "It's neutral. It's not too religious and it's not too showy. Like I said, it's classic."
As the youngest grandchild, Tyler has some of the fondest memories of SilverTowne around Christmas-time and they ALWAYS include his grandfather.
"Grandpa always gave coins to us grandkids for Christmas," he recalled. "They would always be dated 1926 because that was the year that he and our grandmother were born."