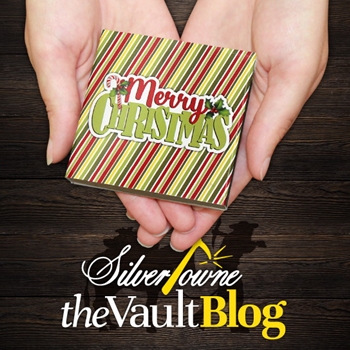 ♫♫ Soon the bells will start... and the thing that will make them ring is the carol that you sing, right within your heart! ♫♫
Our first considerable snowfall occurred this week in Indiana and it is really starting to feel like the Christmas season. Our shop is fully decorated and Santa's waiting to greet you at the door when you come by to see us for all your holiday needs.
As the aftermath of Black Friday, Cyber Monday, etc. settles, shopping mode has definitely taken hold and everyone is starting to feel the pressures of the holiday gift-giving season. But if you are really looking for the perfect gift, our friends here at SilverTowne have you covered beginning to end.
SilverTowne Unique Gift Packaging
The concept of gifting here at the coin shop did not actually occur until a short time ago. Mid-summer of 2016 to be exact. With a few ideas that snowballed into a full line of custom packaging over the course of a year, SilverTowne has expanded its ability to offer our customers a complete beginning to end purchase starting with silver.
SilverTowne's wide variety of special occasion pieces minted at our own custom minting facility were the main focus from the very beginning. With the idea of making every special occasion piece more memorable and giftable for our customers, Angie (web administrator) and Vickie (graphic designer), set out on a hunt for a company to help them create what they needed. Settling with a local business that took the time to find the right pieces and parts to make it work, our new custom boxes were created and rolled out in June of 2017.
It was a few short months later when in-house designed customizable sleeves were released and our custom-minted silver pieces were more desirable as ever with the addition of our gift specific packaging. Each sleeve was created to replace the concept of gift wrapping and it was designed with an area on the back taking place of the gift tag.
In addition to newly designed boxes and sleeves, Silver American Eagle packaging was also focused on. As a way to offer an exclusive holder to our customers, thematic designs were created and rolled out in July of 2017.
With all initial packaging being introduced to our customers, designs and new ways to present our silver pieces are always being thought of. Since initial packaging rollout, two-piece gift sets have been added as well as two-piece sleeves and our new foam stockings.
"Our products and packaging help increase the ease of gifting," Vickie said. "Especially the Silver American Eagle holders as those are something customers buy every year because they are dated. They are commemorative keepsake items so they make great gifts and now the packaging helps reflect that."
Exclusive Christmas Gift Packaging
During the holidays, our Christmas-themed silver rounds and bars are always a big deal to us and the past two years we have made it a point to enhance the experience of collecting and gifting them to you and your dearest friends and family.
Out of every line of packaging and sleeve options we have newly created within the last few years, our Christmas line always does the best. Why? We make it difficult to pass up the chance of having it already wrapped and personalized.
From the more traditional line of packaging options when it comes to pouches and ornament caps to the new foam stockings and two-piece gift set holders, it is a one-stop shop and it has never been easier to give the gift that keeps on giving. Exclusive designs and custom in-house designed SilverTowne boxes and sleeves are truly there to meet the needs of all our customers, new and old.
"It's a gift that you can 100% say is made in the USA," Angie said. "From the silver all the way to the packaging."