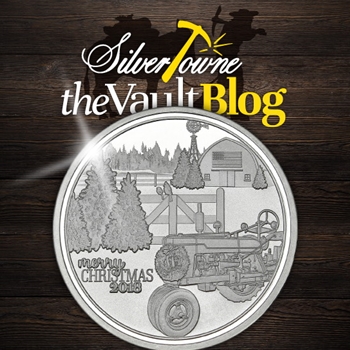 ♫♫ With the kids jingle belling and everyone telling you be of good cheer! ♫♫
The Thanksgiving holiday is officially over and our bellies are full. 'Tis the season where our hearts do the same.
As we move full force into the month of December and the advent calendars begin counting down, once again our family at SilverTowne moves and shakes to make it happen for our customers. Silver basically flies out the door to the point where we have a hard time keeping up with the demand, which prompts the question: why is our Christmas silver so special?
As mentioned before, the process of Christmas silver, in general, is a year-round process. With strategic care, designs are created from scratch and older designs are brought back to life once more. Starting just a few short months after the holiday is over and rolling out all finalized product in July, Christmas never strays too far out of one's mind when tasked with the job of creating a fresh selection of silver each year.
Thematic Effect | Christmas Silver Themes
Although every year there are new designs, there are always the same themes. If you are a loyal SilverTowne customer that has purchased our Christmas silver year after year, you may have noticed similarities in the subject matter used.
There is always a Santa bar and a Santa medallion. In addition to those staple one-ounce pieces is the Santa five-ounce piece that remains popular. Although it stays similar to the previous years as far as design, it flip-flops between a bar and a medallion every other year.
Additional themes include religious and patriotic as well as a farm scene, a baby's first, and a word art among others. Out of the 15 or more designs available each year, four are chosen to be enameled. Enameled themes include the same four every Christmas season: word art, both Santa designs, and patriotic. With those themes in mind, the variation between rounds and bars is also thought of to give the customers a unique and revamped selection every holiday.
"There is always something for everyone to be able to relate to," Angela, our Web Administrator, said. "I think that's why we do so well every Christmas season with our own custom minted product. We make it hard for people to say that they couldn't find something they liked. We definitely cover all areas with our Christmas silver."
Inspiration Station - Design Process for Silver Dies
Designing something new and fresh for our customers takes time. It is strategic and thoughtful and never done without proper care. As a matter of fact, research for next year's designs starts the minute current year designs are finalized.
"It's a big deal," said Vickie, our graphic designer who started an inspiration folder for 2019 months ago. "Christmas sales are our bread and butter."
Staying on trend is always important when trying to come up with new designs. For example, the baby's first piece is sometimes chosen based on the trendy baby animals that are popular for decorating nurseries.
Like any other process though, not all designs work for everyone deciding the final product. With a small committee to present to, ideas come and go and additions are made along with critiques. Before a final product is approved, one design goes through at least four variations. Vickie and Angela are constantly going back to the drawing board as changes are made to fit the ideas of all for the Christmas silver product.
After everything gets approved, it's off to the SilverTowne Mint for the production. This process involves submitting the design in the proper formats for the mint to cut the dies. Next comes the task of explaining how to cut each die for each design. This means communicating where to put the proof or matte fields in each detail of each silver piece.
What's Old Is New Again
Aside from the half or so that are new of the at least 15 options available to our customers every year, the other half are chosen from previously used designs. This happens first to leave the bulk of the time and work for the newly designed pieces.
Looking through backdated Christmas catalogs that were printed every year by SilverTowne, bestsellers and favorites are chosen to come back and once again make their mark on new customers as well as old. But how do they exactly know what was a bestseller?
"Lis," Angela and Vickie both said. "Just based on what she has filled and remembers. She knows what was popular and how well they did."
Lis, who is also a member of the small committee that chooses the designs each year, has worked in fulfillment at SilverTowne for over 30 years. Quite frankly, she knows the most about our silver pieces and is perhaps our biggest asset during the Christmas season. (Learn more here.)
Every year our Christmas silver sparks the interest of many of our customers and rightly so. Our design team, as well as those who ultimately select the final product, are very important to our business during this time of year. It is a massive task that our in-house designers do extraordinary work on every year. They do extraordinary work in order for our customers to have the most extraordinary product during this most wonderful time of year.