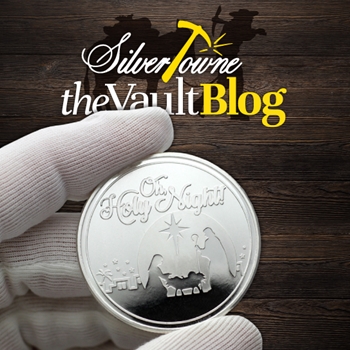 ♫♫ It's been said many times, many ways. Merry Christmas to you. ♫♫
Jack Frost is on our heels trying to nip at our noses here in Indiana. The holiday spirit is starting to be felt and our hearts are growing warmer as the season turns colder.
SilverTowne Christmas Gifts
Although we are early in November and Thanksgiving is drawing nearer, our focus shifts here at SilverTowne and lasers in on our customers and their chance to give the gift that keeps on giving this holiday season: silver.
With a committee starting in February, half of the 15 available designs are brand new as the other half are recycled designs that have been used over the duration of the Christmas silver reign. Why is this important? There will always be something for everyone; new and old. Memories may be jogged with returning customers once again seeing a design they purchased 20 years ago and now have the chance to get again. Even better, they may be able to gift it to a special someone close to them and create another lasting memory.
Memories: the backbone to a giftable Christmas silver piece.
Lis J., Fulfillment, Reflects on Christmas Silver
"When I first started there were two or three pieces," Lis, who is in her 32nd year at SilverTowne, recalls. "Around 1990 is when we consistently had 15-20 different designs every year. We have had at least 15 for the past 20 years."
With over 30 years of experience, Lis has seen the growth of Christmas silver in abundance year after year. As the mid-1980's marked her involvement with us at the coin shop, two or three designs (rounds were not available yet) were all there was. But what makes her experience necessary for us here at SilverTowne and our customers is her knowledge of what will most likely be a big seller for us in the design scheme of things.
"If there is a lot of turmoil in the world, people will choose religious-themed Christmas rounds and bars," she explained. "If the world seems to be more of a happy place, customers will choose Santa or a snowman, etc."
After a silver boom in 2000 that lasted into 2005, Lis recalls how it felt during the holiday season and why that period stuck out the most to her after all these years.
"We just could not keep up," she said vibrantly as if reliving it all. "We were always behind and we couldn't produce fast enough. We didn't have enough painters so we hired kids to work after school. That was a pretty tense time for me."
But overcoming a number of tense holiday seasons where product and orders were coming out of her ears, Lis always smiles at the ability our Christmas pieces have to make others look forward to the season again and again.
"It's a keepsake," she said. "It's a way to always remember what the season is about. As a grandparent, I always give my grand-kids a piece of Christmas silver every year. It's simple but it shows you care enough about them to give them something that's unique."
With countless amounts of energy and effort given to the business over the years, the holiday season can sometimes be monotonous for fulfillment. It gets busy and when it's over you become relieved until it starts all over again. Unless you make a game out of it every year like Lis.
"I always hope every year that something will outsell the Santa face," she laughs. "It never does but we have come close a couple of years." (FYI: the boss loves the Santa design.)
Favorite Designs
So of all the designs and all the choices she has seen, what has been her favorite?
"I try not to choose a favorite but I will tell you one thing," she stated. "Christmas to me is about the Holy family. The season is Christmas, not X-Mas. It has meaning and it's about Him. The Nativity scene will always be the stand out for me."