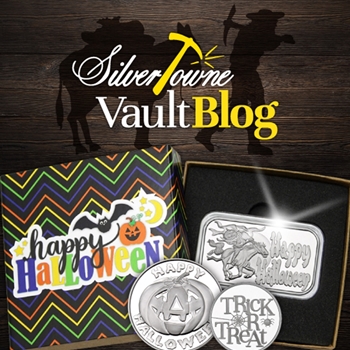 All Hallow's Eve--Day of the Dead--Halloween. These are the terms used to describe the time of year where the spiritual veil between the living and the dead is to be lifted. Monsters can mash, ghosts can be conjured, and witches can be seen flying through the night, spooking anyone and anything in their path. Some even go as far as to describe this time of year as magical and are open to the feeling that anything can happen.
But what most do not think about is how one of the most celebrated and scariest nights of the year can affect the equally scary thing called the stock market.
It's referred to as the Halloween effect on the calendar. This occurrence is based on the growing number of positive stock returns during the latter half of the year after October 31st takes place. Some believe it has to do with the summer months ending, which is described heavily with the old saying "sell in May and go away", and investors returning to the market.
One group of researchers from the University of Economics in Bratislava, Dolnozemska decided to take a closer look at the phenomenon.
The Halloween Effect
Peter Arendas, Viera Malacka, and Maria Schwarzova, all faculty members of the Department of Banking and International Finance, concluded in a study done over this so-called irregularity that although the Halloween effect showed higher returns during the winter months, the results varied from stock to stock.
The study took place over a 37-year period (1980-2017) and looked at 35 cases all a part of the Dow Jones Industrial Average. Each case was broken down into years of experience, average summer returns, average winter returns, and the difference between the two. Out of the 35 cases, two were determined as the most successful with a Halloween effect taking place in more than fifty percent of the years tested (78.38%) and the presence of a significantly higher stock return in over two-thirds of those years. Those companies also still exist today and continue to have an impact in current stocks.
Overall, the study's results showed that 28 out of the 35 companies followed through the years experienced the Halloween effect in over half of the years they were being analyzed. Once again, each stock varied in its average return between summer and winter due to the four factors listed previously. However, it is significant to mention the influence the calendar effect had on the majority of these companies.
While Halloween has its fair share of spooky and terrifying moments, investors may have a reason to embrace the night of fright once more.
(Source: A Closer Look at the Halloween Effect: The Case of the Dow Jones Industrial Average by Peter Arendas*, Viera Malacka and Maria Schwarzova [PDF Download])
Featured Product: SilverTowne Silver Halloween Collection 2018
Trick-or-treat at SilverTowne with your favorite Halloween pieces!