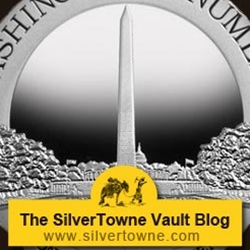 2015 America's National Monuments - Washington Monument
The fourth coin in an exciting new four-coin series highlighting some of the most well-known monuments in the United States is now available. The 2015 America's National Monument Series continues with a 1oz .999 fine silver coin featuring the Washington Monument. The coin is struck in proof quality and is issued as legal tender under the authority of Niue, an island country in the South Pacific Ocean.
The Washington Monument is an American national monument built to honor the first President of the United States of America, George Washington. Located on the eastern end of the National Mall in Washington, D.C., the Washington Monument is considered the most prominent structure in the nation's capital. To the west of the monument sits the Lincoln Memorial, with the Lincoln Memorial Reflecting Pool, the largest such pool in the city, stretching out between the two structures.
The Washington Monument, completed in 1848, is designed as an obelisk - a tall, four-sided, narrow monument that tapers into a pyramid-like shape at the top. It towers above the D.C. skyline at roughly 555 feet tall. The monument is made of marble, granite and bluestone gneiss. The structure is hailed as both the world's tallest obelisk and the world's tallest stone monument – and for the first forty plus years after its completion, it was the tallest structure in the world.
The apex of the monument is made of aluminium, at the time a metal as valuable as silver. The pyramid shaped piece is inscribed on all four sides with several lines of information in cursive writing. One of the inscriptions reads "Laus Deo", which is Latin for praise be to God. This inscription also appears on the coin just above the tip of the monument in the design. Surrounding the Washington Monument are fifty American flags, one for each state in the nation, which are flown 24 hours a day and are placed in a large circle around the monument.
The coin's reverse depicts the Washington Monument in all its glory towering into the clear sky. In the foreground are the rippling waves of the Lincoln Memorial Reflecting Pool, with a silhouette of the U.S. Capital building in the background. Also captured in the design is the circle of 50 American flags, all flying freely in the wind. Inscribed above the main design area is WASHINGTON MONUMENT. Along the bottom of the reverse is the coin's weight and fineness, ONE OUNCE .999 SILVER. The coin's obverse depicts an effigy of Her Majesty Queen Elizabeth II, with inscriptions ELIZABETH II, NIUE, 2 DOLLARS and 2015.
No more than 5,000 of the 2015 Washington Monument 1oz Silver Proof Coins will be released - Get Yours Today!
Also available: Lincoln Memorial, Jefferson Memorial and Vietnam Veterans Memorial - Collect Them All