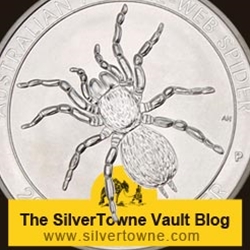 2015 Australian Funnel-Web Spider Coin
In 2014 the Perth Mint released it's highly successful Saltwater Crocodile silver coin. This year they continue the trend of featuring dangerous Australian creatures on silver coins with the release of the 2015 Australian Funnel-Web Spider 1oz .999 Silver Coin. This highly anticipated coin is available now and, like the crocodile before it, has been well-received by collectors since its initial launch.
Native only to Australia, funnel-web spiders are notorious for their dangerous, painful bites. Although not all of the 40 species of the spider are dangerous, many do have very toxic venom. As a group, Australian funnel-webs are considered one of the most dangerous and most deadly groups of spiders in the world, both in terms of clinical cases and venom toxicity. According to the Perth Mint, "The aggressive Sydney Funnel Web is regarded as one of Australia's top-ten deadliest creatures. Its fangs are said to be longer than a brown snake's and so powerful they can pierce toenails!"
The reverse of the 2015 P Australia Silver Funnel-Web Spider 1oz BU Coin features a top view of a large funnel-web spider, displaying its sprawled legs and slightly-hairy body. Inscriptions include AUSTRALIAN FUNNEL-WEB SPIDER, 2015 1OZ 999 SILVER and a P mintmark for the Perth Mint. The obverse of the coin depicts the Ian Rand-Broadley effigy of Her Majesty Queen Elizabeth II, along with inscriptions ELIZABETH II, AUSTRALIA and 1 DOLLAR.
Add a touch of creepy-crawly to your silver stacks by picking up the 2015 Australia Funnel-Web Silver Coin today!