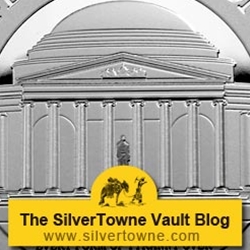 2015 America's National Monuments - Jefferson Memorial
The second coin in an exciting new four-coin series highlighting some of the most well-known monuments in the United States is now available. The 2015 America's National Monument Series continues with a 1oz .999 fine silver coin featuring the Jefferson Memorial. The coin is struck in proof quality and is issued as legal tender under the authority of Niue, an island country in the South Pacific Ocean.
The Jefferson Memorial is an American national monument built to honor the 3rd President of the United States of America, Thomas Jefferson. Located along the Potomac River Tidal Basin on the National Mall in Washington, D.C., the Jefferson Memorial is an impressive structure visible from great distances. The memorial is located near the FDR Memorial, Martin Luther King, Jr. Memorial, Vietnam Veterans Memorial, World War II Memorial and the Lincoln Memorial.
The design of the Jefferson Memorial includes similarities to the Roman Pantheon, while at the same time incorporating elements from Jefferson's own architectural design for the rotunda located at the University of Virginia, which was founded by Jefferson in 1819. The structure is surrounded by circular marble steps leading up to a portico lined by a colonnade of Greek Ionic order columns. Above the columns in the triangular pediment is a sculpture titled Drafting the Declaration of Independence.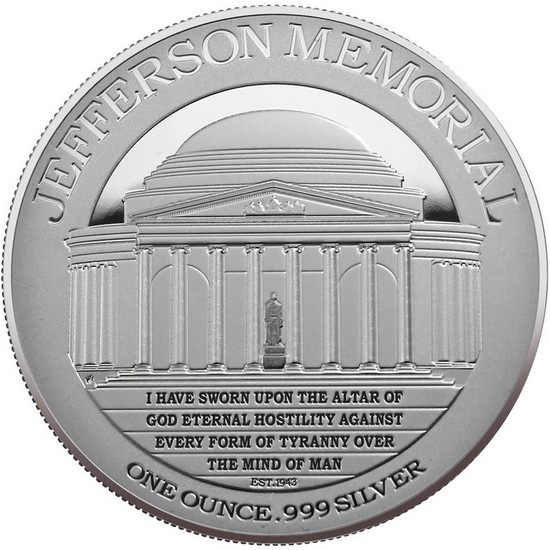 The focal point of the interior of the Jefferson Memorial is the 19-foot bronze statue of Thomas Jefferson himself, which can be seen from afar as a silhouette standing tall between the columns. The southwest interior wall of the memorial contains excerpts from the Declaration of Independence, which Jefferson authored. Many other quotes from this important founding father of the USA can be found throughout the interior of the memorial.
The coin's reverse depicts a frontal view of the Jefferson Memorial, complete with the Jefferson statue silhouette and pediment sculpture. On the steps of the design are the words from the quote that is inscribed in a frieze below the interior of the dome: "I HAVE SWORN UPON THE ALTAR OF GOD ETERNAL HOSTILITY AGAINST EVERY FORM OF TYRANNY OVER THE MIND OF MAN". Inscribed above the main design area is JEFFERSON MEMORIAL. Along the bottom of the reverse is inscribed the coin's weight and fineness, ONE OUNCE .999 SILVER. The coin's obverse depicts an effigy of Her Majesty Queen Elizabeth II, with inscriptions ELIZABETH II, NIUE, 2 DOLLARS and 2015.
No more than 5,000 of the 2015 Jefferson Memorial 1oz Silver Proof Coins will be released - Get Yours Today!

Also available: Lincoln Memorial
Future releases in the series include: Vietnam Veterans Memorial, Washington Monument - Collect Them All