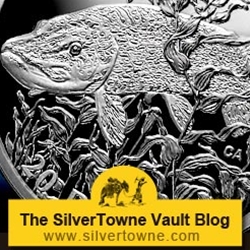 2015 Northern Pike Silver Coin
In conjunction with the Canadian Royal Mint, SilverTowne is proud to be the Exclusive Dealer in the United States for a Brand New 2015 Canadian Silver Coin Series featuring North American Sportfish! The series will highlight four popular species of fish: Largemouth Bass, Northern Pike, Rainbow Trout and Walleye. The second coin in the North American Sportfish series, Northern Pike, is now available.
The 2015 Canada Silver North American Sportfish Northern Pike 1 Ounce Proof coin is certified to be 99.99% pure silver with a diameter of 38 millimeters and a metal weight of 31.39 grams. The reverse image by artist Curtis Atwater depicts a portrait of a northern pike lying in wait for prey among underwater foliage. Viewed from the left side and pointed toward the viewer, the pike's bill-like snout, speckled body, large jaw, and fan-like fins are rendered in exceptional detail. Nestled among a stand of underwater plants, the image seems to ripple with the movement of unseen currents.
Interesting details about Northern Pike:
Pike is a carnivorous fish that are typically found in brackish or freshwaters in the Northern Hemisphere. The fish can get fairly large at around 28-47 inches – and even up to 59 inches, with weights up 55 pounds, although those larger sizes are rare. The heaviest known to have been pulled ashore weighed in at a whopping 68 pounds, caught in Germany in 1983.
Northern Pike are commonly olive green with yellow and white shading along their belly. Younger Pike have stripes along their body, but as they get older the stripes break apart to form spots. The species is territorial and aggressive, especially when it comes to feeding. Pike are even known to resort to cannibalism when food sources are scarce. Rather than actively chasing down other creatures to eat, Pike will remain inactive and docile until they find prey, at which time they'll spring into action in a sudden burst of energy. The fish can often be found lying around in vegetation waiting on their prey.

In addition to the Northern Pike image, the reverse of the coin also includes inscriptions CANADA 2015 and 20 DOLLARS. The obverse of the coin features the effigy of Her Majesty Queen Elizabeth II by Susanna Blunt, along with inscriptions ELIZABETH II and D.G. REGINA. This coin also features unique edge lettering, with 9999 FINE SILVER 1 OZ 9999 ARGENT PUR 1 OZ engraved around the edge of the coin.
A certificate of authenticity accompanies the coin and attests that the 2015 $20 fine silver coin is proof quality and is authorized by the Government of Canada. Also included is an elegant maroon case enclosed inside a gorgeous box. The silver proof coin was expertly struck by the Royal Canadian Mint, and has a limited mintage of only 6,500 worldwide.
Northern Pike is the second design in the North American Sportfish series and SilverTowne is the only direct-from-the-mint dealer in the U.S. where you can buy this new proof-quality pure silver coin. Add this gorgeous coin to your collection!


Also Available: The first coin from the series, Largemouth Bass.

Coming Soon: Watch for 2 more releases in the North American Sportfish Series to be released on future dates – Rainbow Trout and Walleye.