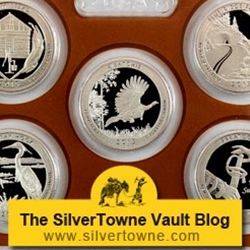 2015 ATB Quarter Proof Sets
America the Beautiful (ATB) Quarters® from the U.S. Mint are popular with collectors for their gorgeous designs featuring national parks and other points of interest from across the United States of America. The mint recently released proof sets, both silver and clad, containing all five ATB quarter designs being produced in 2015 – the sixth overall set of five designs released in the program. These five-coin sets give fans of the ATB series a chance to see all five of the 2015 designs before all of the quarters are released individually.
The America the Beautiful Quarters Silver Proof Set™ contains 90% silver versions of all five coins that will be released throughout the year in the ATB Quarters series. The clad version of the America the Beautiful Quarters Proof Set™ includes all five coins as well, but composed of metals other than silver. All of the coins in both sets are struck in proof quality at the San Francisco Mint and include an "S" mintmark. Additional inscriptions accompanying the 1932 John Flanagan portrait of George Washington on the obverse of the quarters include UNITED STATES OF AMERICA, LIBERTY, IN GOD WE TRUST and QUARTER DOLLAR.
The reverse of the 2015 ATB Quarters feature designs honoring the following locations:

- Homestead National Monument of America (Nebraska)
- Kistachie National Forest (Louisiana)
- Blue Ridge Parkway (North Carolina)
- Bombay Hook National Wildlife Refuge (Delaware)
- Saratoga National Historical Park (New York)
Celebrate the beauty of America by adding the 2015 5pc ATB Silver or Clad Proof Sets to Your Collection!