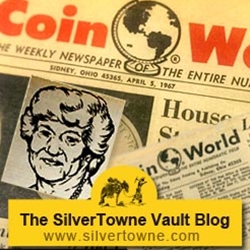 Margo Russell
The numismatics field lost a great ambassador recently – Margaret "Margo" Russell, often referred to as "The First Lady of Numismatics", died in Sidney, Ohio on January 26, 2015, at the age of 95. Reading through the list of accomplishments that Mrs. Russell was able to achieve over her lifetime is quite impressive.
Her career in numismatics started when she began applying her journalism skills to a new specialty publication in 1960. Coin World was launched that year by the Sidney Daily News, a local community paper where Margo had started her newspaper career at the age of 17. Just two years after transferring over to Coin World in 1962, she was named executive editor and went on to be officially named editor in 1967. Quoted in the Sidney Daily News article 'Community remembers Margo Russell', current senior editor for news at Coin World Bill Gibbs said "Margo Russell was a consummate professional journalist in a very highly specialized field, and one that was dominated by men until she came along."
Of course Coin World itself provides extensive coverage about Margo. Below is an excerpt from one such article:

"Mrs. Russell reported on the U.S. Treasury Department as well as the U.S. Mint and the Bureau of Engraving and Printing. She testified before U.S. House and Senate committees on a number of hobby-related topics.
In 1964, Mrs. Russell was appointed by President Lyndon Johnson to serve as a member of the United States Assay Commission, an honor much sought after in the coin collecting community. The panel was created nearly 200 years earlier as an annual public check to confirm that U.S. coins met with statutory requirements.
In 1970, she was named a member of the American Revolution Bicentennial Commission Coins and Medals Advisory Panel along with 14 congressmen and national figures in art, banking, and numismatics. She was named co-chairman of the panel in 1972. The panel coordinated the selection of designs for the Bicentennial quarter dollar, half dollar and dollar.
She was also a member of the advisory committee for the Research Triangle Institute's U.S. coinage system study and a consultant to the General Services Administration numismatic program as it prepared to sell the remaining stocks of silver dollars from the Treasury Department's once vast holdings.
Mrs. Russell was a member of the American Numismatic Association and the American Numismatic Society and an honorary member of collector groups across the country. She was a fellow of the ANS and of the Royal Numismatic Society of Great Britain."
For even more details on Margo's accomplishments, read the full Coin World article by Michele Orzano.
An article posted on The E-Sylum, An electronic publication of the Numismatic Bibliomania Society, highlights additional memories from many who knew Margo, including Joel Orosz who says: "Margo's place in numismatic history is certainly secure for her accomplishments in transforming Coin World from its late start-up days into a fully-realized numismatic newspaper. Nor should anyone underestimate how effectively she opened the door for the participation of women at every level of numismatics."
For further details on her career and lifelong accomplishments, read Margaret Russell's obituary listed in the Sidney Daily News.
The entire SilverTowne family expresses our condolences to Mrs. Russell's family and friends.