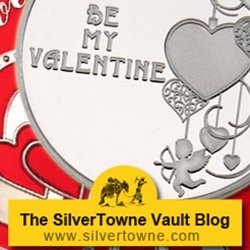 2015 Valentine's Day Bullion
Roses are Red, Violets are Blue, Silver is Precious, and So Are You! Show your favorite Valentine how precious they are to you by surprising them with beautiful silver and bronze pieces from SilverTowne. Unlike flowers that will wilt and candy that will be consumed in a matter of minutes, a gift of precious metal offers value that can last a lifetime!
Saint Valentine's Day, or simply Valentine's Day, is celebrated by many countries around the world. The holiday was associated with romantic love early on in the High Middle Ages. By the 15th century, it had become commonplace for lovers to express their love for each other by exchanging flowers, sweets and greeting cards known as "valentines". In modern times people have branched out in their gift-giving with jewelry, stuffed animals, perfumes and other items.
But if you're looking for something completely unique, silver medallions and bars are a great choice! There are several different designs to choose from featuring hearts, Cupid, a cuddly teddy bear, and even a simple heart-shaped silver medallion proclaiming "With All My Love". Also available is a 2015 Silver American Eagle in a Valentine's Day Snaplock case. Several designs are available hand-painted in vibrant colors - and all but the silver eagle are customizable with optional engraving.
There are two new designs for 2015 in the Valentine's Day lineup, one bar and one medallion:

- The new bar offers a simple design and message, prominently featuring two hearts (perhaps beating as one?). The heart is of course the universal symbol of love, although there are many varying theories as to how this came to be. Above the two hearts is the phrase HAPPY VALENTINES DAY!

- Down the right side of the obverse of the new medallion are several styles of hearts hanging from strings, which work together to resemble a mobile or sorts. Hanging below the hearts is a small rendition of Cupid, the winged figure that goes around causing people to fall in love using his bow and arrow. To the left of this design is a heartfelt message of BE MY VALENTINE.
Shop all Valentine's Day selections now – for a gift that is sweeter than chocolate!