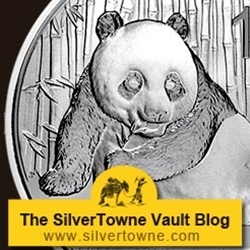 2015 Silver Panda Coins
Panda silver and gold bullion coins from China have been a favorite of collector's worldwide for many years. Now you can get your hands on the 2015 version of this popular silver coin! The Chinese government first introduced the Gold Panda coins in 1982, with the Silver Pandas coming along the following year. Both the gold and silver versions have been released every year, with just a few exceptions, since then. The bullion coins are struck by the mint of the People's Bank of China (the central bank of the People's Republic of China), which is responsible for the currency and coin production of the nation.
The 2015 Silver Panda Coin features a single full-grown panda bear sitting on the ground, leaning to one side while eating bamboo leaves, with a row of bamboo plants in the background. For the first time since the silver coins debuted in 1983, the Panda coins do not include inscriptions on the reverse stating the coin's metal content, weight or fineness. Despite the omission of this text on the actual coin, it is still made up of 1oz of .999 fine silver, with the purity, weight and content guaranteed by the Chinese government.
Beloved and protected around the world, the panda bear has become a national symbol of China. With each year's release, the designs on the gold and silver panda coins change to reflect these beautiful creatures, making Panda coins highly sought-after every year. Additionally, Silver Pandas are the official silver bullion coin of the People's Republic of China.
SilverTowne is pleased to offer this great modern world coin in both MS69 and MS70 conditions as certified by NGC or PCGS, as well as the non-certified BU version. Add Silver Pandas to your collection today!