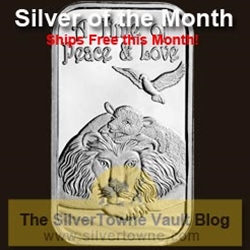 2014 December Silver of the Month
The December 2014 SilverTowne Silver of the Month features an endearing image of a lion and a lamb, lying down peacefully together. Hovering above them in mid-flight is a bird of peace, a white dove. Inscribed above the image is the text A time of Peace & Love.
The concept of a lion and a lamb, one ferocious animal and one gentle animal, living together in peace is based on Christian beliefs. The phrase "the lamb will lie down with the lion" is commonly believed by many people to be a literal verse from the Bible, however it is actually a derived concept from several different parts of scripture. The Lion and The Lamb saying and imagery has different meanings and interpretations to different people, some of those being: not all natural enemies are exactly natural and unavoidable enemies; in reference to Jesus Christ, as the Lion of Judah & the Lamb of God; relating to earth after Jesus Christ returns, ferocious beasts (lions) living peaceably with gentle animals (lambs).
Add the stunning Lion and The Lamb 1oz .999 Silver Bar to your collection today and take advantage of free shipping for the entire month of December.
Whatever designs you choose, just keep stacking the silver!
Silver of the Month:
Based on customer feedback, the SilverTowne Silver of the Month allows you to add a variety of designs to your silver stacks with a different featured design offered with free shipping each month. As most investors in precious metals know, an ounce of silver is an ounce of silver – but many people like to have different designs in their silver stacks. After all, if you're going to hold physical silver, why not make it fun and interesting as well as practical? By offering free shipping on a different featured design each month, we hope you will be able to add exciting new designs to your silver collection!