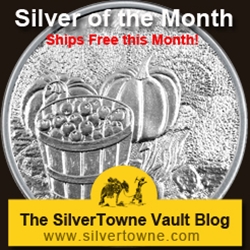 2014 November Silver of the Month
The harvest season is in full swing – a time to reap what you have sown. Although it can have other meanings, in the traditional sense of the term harvest it's the time of year when crops are gathered from the fields across the country. In recognition of the harvest season, newly gathered crops are featured prominently on our November 2014 SilverTowne Silver of the Month.
The Harvest 1oz .999 Silver Medallion highlights several crops brought in from the annual harvest, including cobs of corn, pumpkins and a bushel of apples, all assembled on a cobblestone walkway lined with shrubbery.
Harvest time marks the end of the growing season and is celebrated in many communities with events and festivals. It is the culmination of the hard work that has gone into the preparation, planting, nurturing and gathering of the crops. Of course the largest celebrations and reflections on the blessings of the year's harvest take place on Thanksgiving Day. The national holiday is celebrated primarily in the United States and Canada, but other countries also observe holidays to mark harvest and other similar themes.
Add the Harvest 1oz .999 Silver Medallion to your collection and take advantage of free shipping for the entire month of November.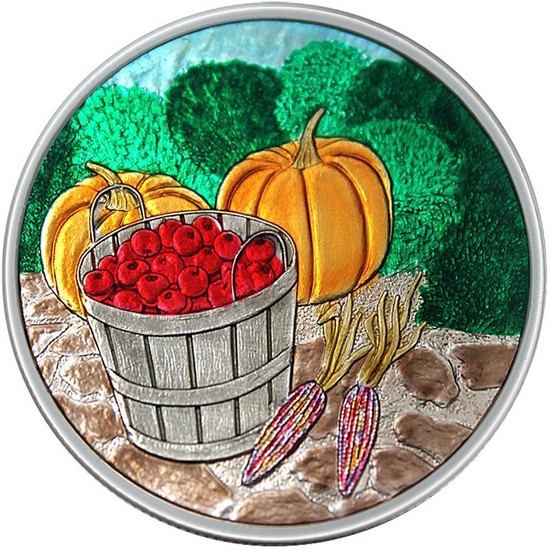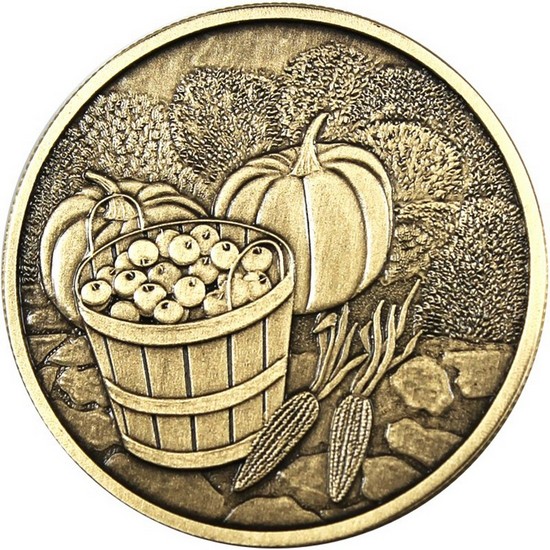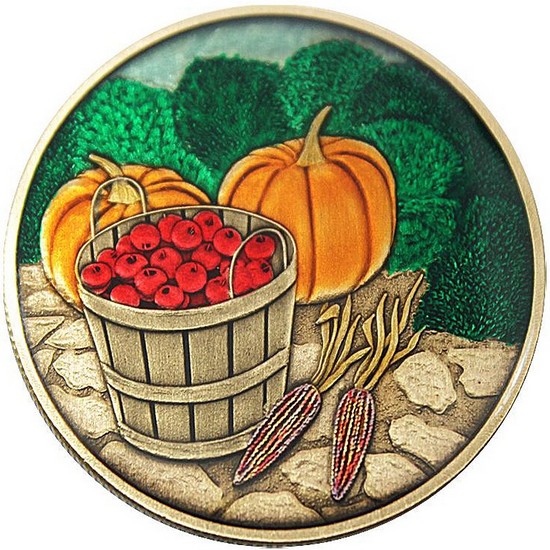 Also available are enameled silver and enameled bronze versions, as well as a plain bronze medallion. Optional engraving is available on the reverse of all of the silver and bronze varieties, making them customizable and perfect for gift-giving.
Silver of the Month:
Based on customer feedback, the SilverTowne Silver of the Month allows you to add a variety of designs to your silver stacks with a different featured design offered with free shipping each month. As most investors in precious metals know, an ounce of silver is an ounce of silver – but many people like to have different designs in their silver stacks. After all, if you're going to hold physical silver, why not make it fun and interesting as well as practical? By offering free shipping on a different featured design each month, we hope you will be able to add exciting new designs to your silver collection!