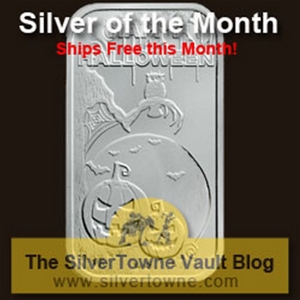 2014 October Silver of the Month
October is the month for colorful foliage, cooler temperatures, costumes, and of course pumpkins! So it is in this spirit that we are highlighting our Happy Halloween silver bar featuring two jack-o'-lanterns with their "scary" faces on as the October 2014 SilverTowne Silver of the Month.
In addition to the two jack-o'-lanterns, the Happy Halloween Scary 1oz .999 Silver Bar also includes an owl resting on the branch of an eerie tree, a cobweb nestled within the tree branches and several bats in flight in front of a giant full moon. As you inspect the bar closely, you will also notice four pairs of creepy eyes peering out from the ground at the base of the tree underneath the jack-o'-lanterns.
Carved pumpkins, or jack-o'-lanterns, were originally associated with the harvest season, long before they were thought of almost-exclusively as a Halloween decoration. Around the world, jack-o'-lanterns are carved out of other vegetables, like turnips and beets, as well, but the native pumpkin is heavily favored in North America. There are many ways to carve a jack-o'-lantern, from very complex designs to simple shapes cut out for eyes, noses and mouths. These carvings also range from cute, fun designs to the classic approach of grotesque "scary" faces which were meant to represent spirits or goblins.
Add the Happy Halloween Scary 1oz .999 Silver Bar to your collection and take advantage of free shipping for the entire month of October.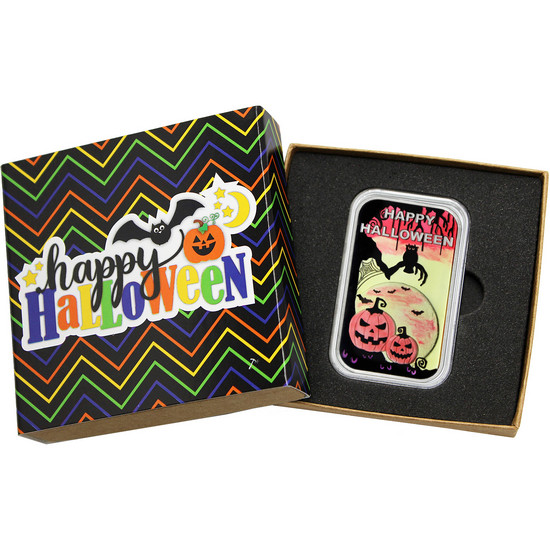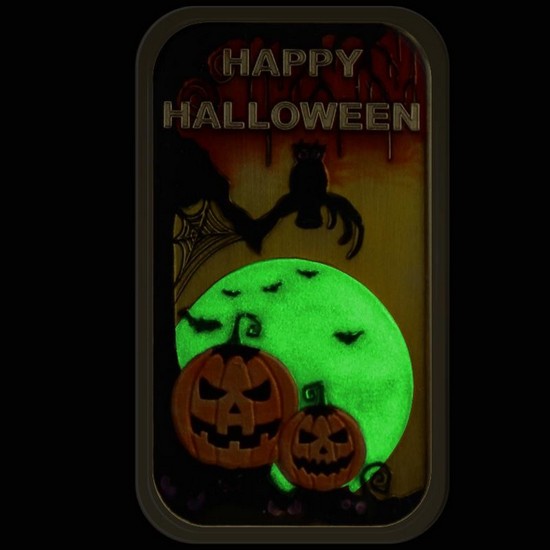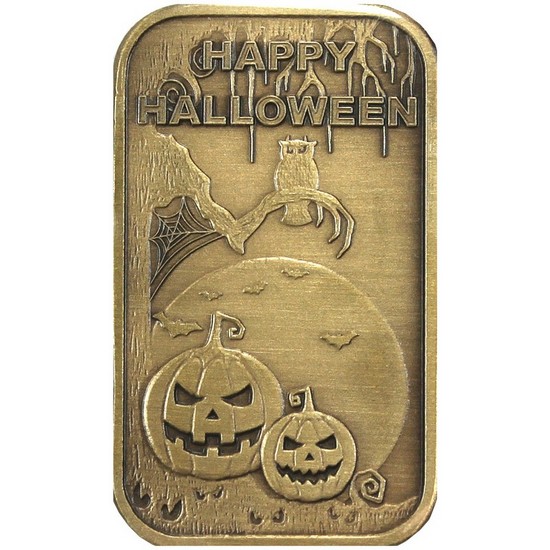 Also available are enameled silver and enameled bronze versions, which both feature an extra spooky touch – the moon glows in the dark! The design also comes in a plain bronze bar. Optional engraving is available on the reverse of all of the silver and bronze varieties, making them customizable and perfect for gift-giving.
Silver of the Month:
Based on customer feedback, the SilverTowne Silver of the Month allows you to add a variety of designs to your silver stacks with a different featured design offered with free shipping each month. As most investors in precious metals know, an ounce of silver is an ounce of silver – but many people like to have different designs in their silver stacks. After all, if you're going to hold physical silver, why not make it fun and interesting as well as practical? By offering free shipping on a different featured design each month, we hope you will be able to add exciting new designs to your silver collection!