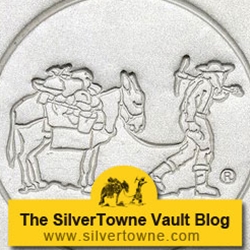 New 100 oz Poured Silver Bar
The designs featured on many ingot-style silver bars make them fun to collect. This style of silver bar is often referred to as an art bar because of the creative design formed into the surface of the bar. Another type of silver bar, one that is hand-poured by skilled craftsmen, is often referred to as a loaf-style bar due to their shape and rougher surfaces. The unique old-fashioned style of a poured silver bar makes each one a work of art in their own right - silver bullion that many collectors are proud to own. Now you can have the best of both styles combined into one uniquely different silver poured bar!
SilverTowne is proud to introduce our newest creation – the SilverTowne Trademark Poured 100oz .999 Silver Bar. This new bar, hand-poured by SilverTowne craftsmen just like all of our poured silver bars, features the SilverTowne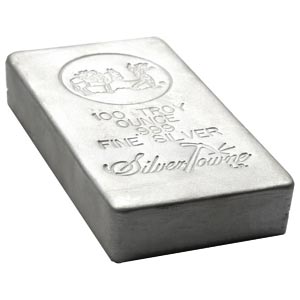 Trademark prospector and his trusty burro on the front. This design should be easily recognizable to anyone who is familiar with SilverTowne's ingot-style trademark silver bars. But upon closer inspection you will notice that the design has been updated and modernized, highlighting in greater detail all the finer elements of the logo.
What makes hand-poured (loaf-style) silver bars unique is that no two bars are alike. They are made the old-fashioned way by pouring liquid silver into molds to form the bars into the desired shape. This process allows pockmarks, ripples, bubbles and other "imperfections" to form on the surface of the bars. But these markings aren't as much imperfections as they are beauty marks! The unique surfaces of the poured bars are what give them that vintage - almost rustic - look and feel. There are many collectors who prefer the classic look of the poured bars over the more refined silver art bars, as a sort of nod to the old-school silver bullion production process – the way silver bars were made before modern day technological advances in production methods.
All SilverTowne Poured Silver Bars contain .999 fine silver - and SilverTowne craftsmen take great pride in making each bar unique. In addition to the newly designed Trademark 100oz bar, SilverTowne poured silver bars also come in 5oz, 10oz and 50oz sizes. There is a poured bar for every budget! If you don't own any hand-poured silver bars, do yourself – and your collection – a favor and pick some up today.